ACCC: Boomers USA, Canada USA game tickets to receive over $5 million in refunds
On Tuesday, the ACCC confirmed that TEG Live Pty Limited would commit to a refund to consumers for a portion of fans who purchased tickets to games featuring Team USA in Australia last year, the total of which would amount to over $5 million.
USA Basketball (USAB) participated in three games last year, two of which featured the Australian Boomers in Melbourne's Marvel Stadium, and one in Sydney's Qudos Bank Arena against Canada, in the lead up to the 2019 FIBA World Cup.
To be clear, TEG Live had processed some refunds last year, prior to the games. The news on refunds today came after an ACCC investigation that began in August last year.
Player withdrawals
In the ACCC statement released on Tuesday, TEG Live admitted to "false or misleading claims about seating at the games held in Melbourne and acknowledged the ACCC's concerns that it may have breached the Australian Consumer Law by misleading consumers about which USA national basketball team players would be playing, or would be available to play, in the games", or misaligned expectations as discussed last year.
"Over a year before the games, a 35-man squad was selected and TEG Live included the names and images of the majority of those players in its advertisements," ACCC chair, Rod Sims said. "In the end, only four players from the 35-man squad, Harrison Barnes, Kemba Walker, Khris Middleton and Myles Turner, played in the games. We are concerned consumers may have purchased tickets believing many of these advertised high profile players would be playing when, in the end, this was not the case."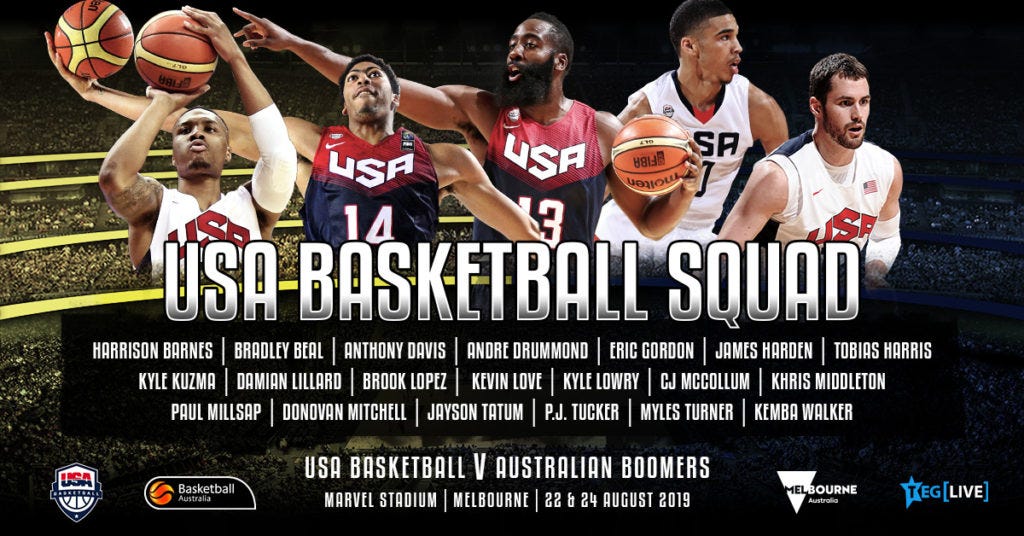 Image Credit: Basketball Australia
TEG Live also issued their own statement on the news, and offered their own perspective on how events had played out, in terms of the USAB stars withdrawing.
"[The USAB mass withdrawals] is a particularly complex issue for our industry because in team sport, team selection is within the sole control of sporting teams or federations - in this case USA Basketball - rather than the company promoting the event. In addition, final team selection is always subject to change. Several intervening events contributed to an unpredecented number of player withdrawals ahead of these basketball games."
The TEG Live statement referenced injuries to stars like Kevin Durant, Kyrie Irving and Paul George, and confirmed that the use of "high-profile players" in marketing assets were approved by USAB, and updated soon as player availability changed.
"It is the nature of team sport that the player group can change over time. While we always believed we had a reasonable basis to expect that these players would be participating, we acknowledge the concern of the ACCC that a number of players that were included in our marketing materials did not ultimately play in the games.
"We have therefore agreed with the ACCC that going forward, additional warnings will be made to consumers to ensure that they are aware of that risk before they purchase tickets to future international sporting events that we promote."
In the official undertaking, TEG Live is required to "for three years, report to the ACCC annually on any advertising which referenced individual players who did not participate in the event."
Floor-level seating concerns
In the ACCC statement, concerns were raised about how the seats were presented as being tiered during the sale process, which varied from how floor level seats had obstructed viewing. According to TEG Live and Basketball Australia, 200 people (out of 11,000 floor seat ticket holders) were relocated during the first game.
"With respect to the floor seating complaints, we created a background image to depict the Marvel Stadium floor seating which suggested the floor seating was tiered. This was not an accurate depiction of how the floor seating was actually implemented for the USA Basketball games in Melbourne," the TEG Live statement reads, and confirms the depiction was a mistake on their part.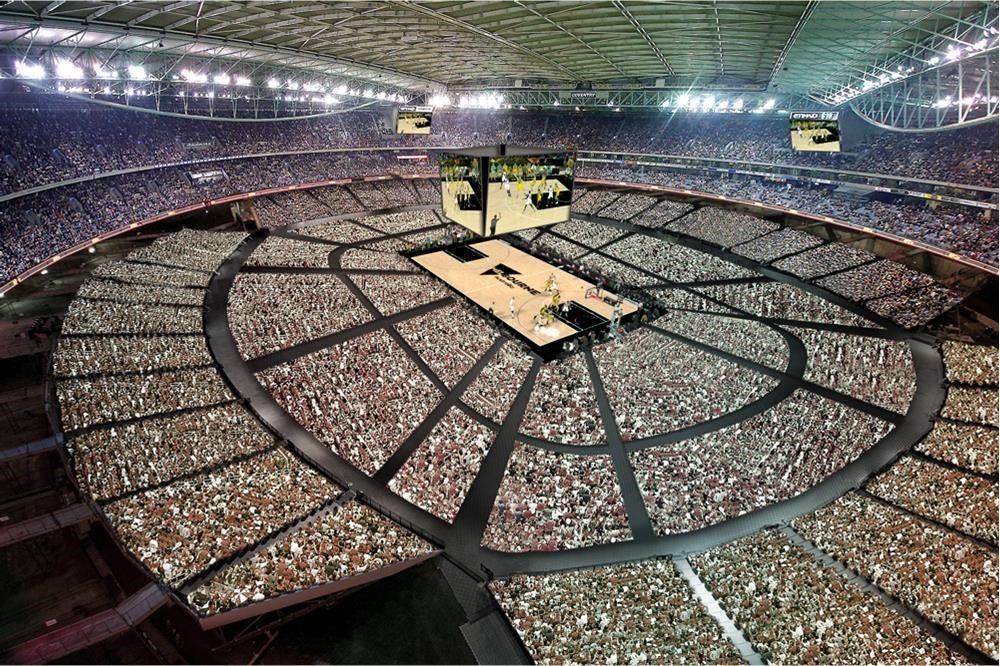 A digital impress of what Etihad Stadium will look like for Boomers vs USA series | Supplied by Basketball Australia
"As this was the first time a basketball game has ever been staged in a football stadium in Australia, we created this background image. Ultimately that mock-up did not reflect the actual seating arrangements."
Ticket refunds
Automatic refunds are expected to be received to around 5,000 consumers before the end of July.
According to the ACCC statement, refunds will be made to customers who:
purchased tickets on or after 15 August 2018, did not attend their games and made refund requests prior to those games.

purchased floor-level seats at the Melbourne games between 18 June 2018 and 24 August 2019
The games that Team USA played in, and TEG Live promoted, were on:
22 and 24 August 2019 at Marvel Stadium, Melbourne; and

26 August 2019 at Qudos Bank Area, Sydney.