Discover more from The Pick and Roll
We're all about Aussie hoops. Independent, objective analysis and commentary. Insightful narratives built around Australian basketball. Read about our men and women in the NBA, WNBA, NCAA, Europe, national teams, NBL, WNBL, NBL1, prospects and more.
Over 2,000 subscribers
AAU Australia partners with The Pick and Roll
Australian basketball has continued its impressive growth at the professional and international level, underpinned by the staggering depth at the junior end. Young Australian ballers are fine tuning their games at both home and abroad, including those headed to college in the US.
It is with that in mind that we proudly announce our newest partnership with AAU Australia.
As we have recently covered, the AAU, or Amateur Athletic Union, has arrived in Australia from its Orlando, Florida base to add their unique offering to the Australian basketball development pathway.
It is a pathway that has produced talent of the calibre of Joe Ingles, Patty Mills, Matthew Dellavedova, Aron Baynes and more, but also a pathway that at times misses way more talent than it manages to elevate to the top.
With hundreds of thousands of aspiring junior basketballers playing the game across Australia, there is amazing talent that falls outside of the defined pathways. No system currently exists to identify and nurture all of that talent, for any number of reasons, and to no one's discredit. But the fact remains, there is talent. After the small number of state and national program development spots are filled, what remains for these unchosen kids chasing their dreams?
The fact also remains that of the current crop of NBA and WNBA players, more than 70% played AAU basketball as juniors.
Of the current crop of NBL, WNBL, NBL1 and various Australian state league imports, a significant percentage played AAU at some point to enhance their exposure and to develop their skills. AAU is a defined pathway, with a methodology that clearly is working in the greatest basketball country in the world. So why not here in Australia, and why not now?
AAU officially arrived in Australia a few months back with their first tournament, Spring Madness, held in the second week of the September Victorian school holidays. According to all reports, the event proved to be a smash hit. Boasting a very high level competition and the best refereeing most people can recall, the tournament was delivered with a professionalism that one would expect from an organisation with almost 140 years of experience behind it.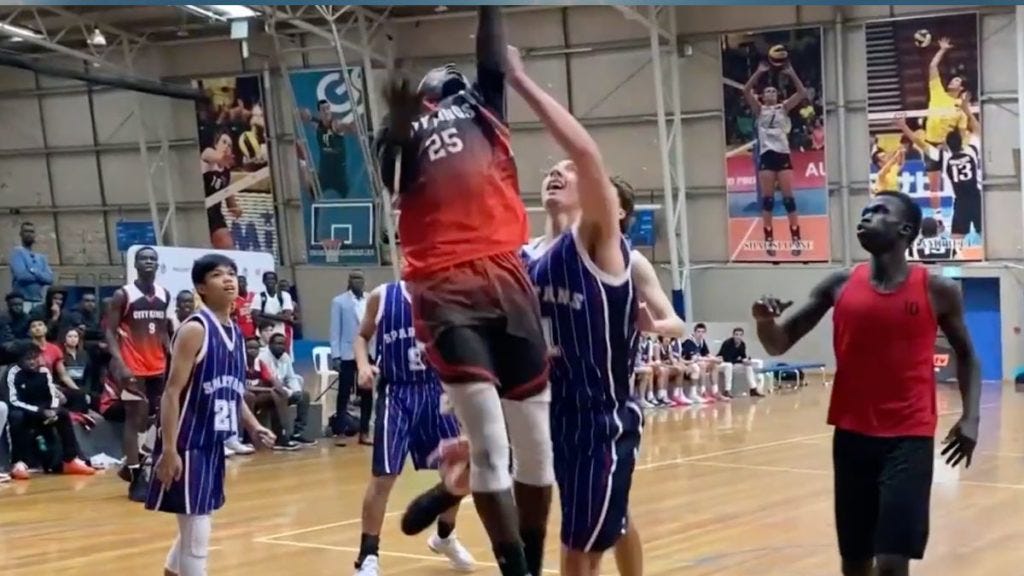 AAU Australia Spring Madness 2019 | Supplied
The Pick and Roll's Ben Mallis interviewed AAU President and CEO, Dr. Roger Goudy earlier this year, who explained the importance of the AAU in Australia.
"Providing our global resources is one of the main reasons why we are working with the team here in Australia," said Dr. Goudy. "Their plan is to help these kids reach their goals – come hell or high water. That is why we believe our Australian presence will be a tremendous success. Our team is doing it for all the right reasons. It always starts with that. Our team loves working with kids and they work at their craft. They are committed and passionate."
The Pick and Roll supports the developments and growth of the sport across all levels, so it was a no-brainer that it would also get behind AAU Australia.
"We cover and support Australian basketball across all levels, from juniors through to the professional ranks at both home and abroad," explained The Pick and Roll's Damian Arsenis. "I've personally been following the Australian men and women in US college for years, and it always amazes me as to how they are always able to unearth a talent that was overlooked back here in Australia – kids who were never part of a state team, or even a representative club!
"We feel that AAU Australia can help fill that gap where the established and highly successful development pathways currently cannot so they can enhance each other for the benefit of the sport long term."
More opportunities, more exposure, more Aussie kids getting to play college basketball. It also increases the chances that these kids will stay in school, and working harder at school in Australia to be academically eligible for the college experience. Will more kids get to college through AAU Australia? Probably. But that is really in the hands of the kids. At least through the AAU, the opportunities being provided will be more plentiful.
But what is the bigger picture? By staying engaged in sport longer, due to more opportunities and realistic chances to get seen and get recruited, kids will continue to develop the vital life skills of a work ethic, focus on their education, and grow in the tenacity and mental strength enough to fight the demons of depression and anxiety that dogs this generation.
We are excited about this development and partnership with AAU Australia. We look to seeing how they establish themselves down under and sharing the programs and athlete success stories. Our mantra has always been to be simple and effective, an approach the AAU has taken to youth sport in America for a very long time, and which we now excitedly welcome to Australia, and to The Pick and Roll.