Discover more from The Pick and Roll
We're all about Aussie hoops. Independent, objective analysis and commentary. Insightful narratives built around Australian basketball. Read about our men and women in the NBA, WNBA, NCAA, Europe, national teams, NBL, WNBL, NBL1, prospects and more.
Over 2,000 subscribers
7 ex-teammates Josh Childress can bring to the NBL
It was mentioned in the post game press conference in Sydney's final game this past Sunday, when an honest Josh Childress spoke to media regarding how he will weigh up his decision to play basketball in Australia once more.
"This is probably one of the best organisations I've been around and one of the best group of guys I've played with since college so I've really enjoyed that.

"Basketball is a business at the same time so I've got to make sure I weigh up my options - at the same time I would love to be back in a Kings' jersey and have a better season." - Josh Childress
Between speaking with media throughout the last month, spending time on the sidelines traveling with the Kings and even coach Damian Cotter mentioning the positivity of the future of 'Chilly' with the Sydney franchise, there are high hopes for the international star to don the purple and gold again in season 2015/16. View image | gettyimages.com Childress averaged 21.1ppg and 9.2rpg in 2014/15, both topping the NBL charts which included a blistering 36 points, 19 rebounds, seven assists and five block performance against the Adelaide 36ers earlier in the season before going down to injury not once, but twice. The latter required surgery for a torn pectoral muscle shutting him down for the final month of the season.
Childress was by far the league's most valuable player before succumbing to such injuries.
However, hopes are still high that Aussie fans will continue to see the Josh Childress talent show on our shores.
So here lies the next chapter of Childress' career along with the level of improvement put forward from the NBL. How can we best use his knowledge and contacts around the world to cement the fact that the NBL is well and truly back on the map?
His address book was in fact, all set to be used this season when Al Harrington was the plan to replace the injured Childress in the Kings line-up. However, NBL rulings disallowed an import to be replaced if he would be ineligible to play finals (not enough games played to qualify).
While this may have upset many fans, this may have been a sign of the future. Below we've revealed seven of Childress' ex-NBA teammates that could potentially get the call from their mate, telling them to ply their trade 'Down Under'.
---
Al Harrington
Age: 35
Current Contract: None
Team (Whom he played with Childress): Atlanta Hawks
Height: 6-9
Position: PF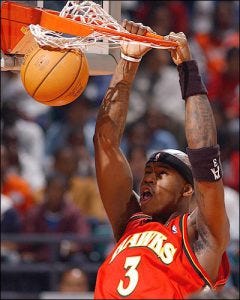 The most obvious selection based on what took place during the back-end of the 2014/15 NBL season. Harrington was last seen on the basketball court in China wearing the jersey of Fujian Sturgeons.
A 16 year career in the NBA spanning across seven clubs dating back to 1998 when drafted in the first round by the Indiana Pacers, Harrington averaged 13.5ppg and 5.6rpg.
In November of last year, Harrington parted ways with Fujian with NBA interest on offer, however nothing came to fruition which ended with the axed NBL idea.
---
Mickael Pietrus
Age: 33
Current Contract: None
Team: Phoenix Suns
Height: 6-6
Position: SG/PG
Pietrus originally played for Pau-Orthez in his home of France for four years before being drafted into the NBA in 2003. Selected in the first round by the Golden State Warriors, an 11 year NBA career panned out across five franchises.
His major achievements of making the NBA Finals with the Orlando Magic in 2009, as well as winning the 2001 and 2003 French Championships with Pau-Orthez are added to the bronze medal France won in the 2005 European Championships.
Pietrus was last seen in the NBA playing for the Toronto Raptors in 2013. He did work out for the Sacramento Kings late last year, however was not signed after conclusion of the trials.
---
Jason Richardson
Age: 34
Current Contract: Final year with Philadelphia 76ers
Team: Phoenix Suns
Height: 6-6
Position: SG
Currently the oldest player on the Philadelphia 76ers roster and his teammates have made sure he knows it. 'J-Rich' received adult diapers from fellow Sixers players for his 34th birthday last month.
https://instagram.com/p/yFd3JsR3ni/?modal=true
Knowing that, Richardson currently boasts a 15 year career in the NBA, playing for as many as five teams. A two-time NBA Slam Dunk Champion, Richardson was also a former NCAA Champion with Michigan State.
With Richardson's NBA deal expiring at the end of this season, it could be the time 'J-Rich' decides to choose another path through basketball.
---
Hakim Warrick
Age: 32
Current Contract: Konyaspor in Turkey
Team: Phoenix Suns
Height: 6-9
Position: PF
Warrick spent nine years in the NBA from 2005-13 stretched across six teams after successfully winning the NCAA Championship with Syracuse in 03. The first round pick drafted by Memphis has most recently spent his time playing basketball around the world.
Hakim Warrick spent a year in China playing for Liaoning Flying Leopards averaging 21ppg and 9rpg in the 22 games he played. Warrick didn't take long to jet off to Europe to sign with Turkish team Torku Konyaspor last month.
Could the next destination be Australia?
---
Shannon Brown
Age: 29
Current Contract: None
Team: Phoenix Suns
Height: 6-4
Position: SG
One of the more athletic players on this list, which could provide more of a highlight reel for the NBL much like Childress.
Known for his time winning back-to-back championships (09/10) with the Los Angeles Lakers, Brown has bounced around the NBA before bouncing out altogether.
A career stretched over nine years which has included eight NBA teams and three D-League affiliates, Brown is one of those players that is a example of hard work paying off.
Despite never playing anywhere other than in the United States of America, Brown's next contract could spark new interest for the 29 year old.
---
Andray Blatche
Age: 28
Current Contract: None, however is in contention for NBA contract (Miami Heat)
Team: Brooklyn Nets
Height: 6-11
Position: PF/C
Currently sifting for offers within the NBA, Blatche's best chance to re-enter the big time is via the Miami Heat. With Chris Bosh unfortunately sitting out for the remainder of the year, Blatche is one of the many candidates the Heat are looking to sign as a replacement.
As it stands, Blatche is a free agent after last playing for Xinjiang Flying Tigers in the Chinese Basketball Association.
The American/Filipino may get some love down under with his positive play in the most recent FIBA World Cup 2014, scoring at an average of 21ppg in the tournament, grabbing headlines for the Philippines.
With international experience under his belt, Blatche could be another prospect NBL teams look at thanks to the connections around him.
---
MarShon Brooks
Age: 26
Current Contract: 1 year deal with Emporio Armani Milano in Italy
Team: Brooklyn Nets
Height: 6-5
Position: SG
In August of last year, Brooks signed a one year deal in Italy making his first international basketball journey outside of the USA.
After being let loose by the Los Angeles Lakers following the 2014 Summer League, Brooks hasn't had much of an opportunity to return to the NBA.
Childress played alongside Brooks during his tenure with the Brooklyn Nets, the team Brooks made his debut for in the NBA after being traded immediately on draft night.
While this may pose as one of the long shots due to the limited time these two spent together, Brooks' acceptance to head outside of the American borders presents the rare possibility of the swingman heading south.