Discover more from The Pick and Roll
We're all about Aussie hoops. Independent, objective analysis and commentary. Insightful narratives built around Australian basketball. Read about our men and women in the NBA, WNBA, NCAA, Europe, national teams, NBL, WNBL, NBL1, prospects and more.
Over 2,000 subscribers
Here's 3 things we want from Ben Simmons in the 2017/18 NBA season
Ben Simmons remains an exercise in the hypothetical.
It has been 15 months since Simmons was drafted by the Philadelphia 76ers, and we are yet to see him play a single minute of NBA basketball. With only one season of NCAA basketball, and a handful of Summer League games under his belt, there is very limited tangible evidence of what to expect.
The same can be said for his Philadelphia 76ers franchise.
In this period since Simmons was drafted, the 76ers have seen Joel Embiid flaunt The Process, only for the big man to get hurt once more. Nerlens Noel was traded, Jahlil Okafor was rendered useless, J.J. Redick was acquired, Amir Johnson was overpaid and Markelle Fultz was drafted. Question marks are aplenty.
Over the coming weeks, we will be looking at how each Australian in the NBA can evolve their game during the 2017-18 season. We have put together an Aussies in the NBA Wish List for the upcoming season, containing three things I would like to see with every Australian playing to the NBA.
First up is Simmons and what to expect from Australia's newest NBA player. The focus of Simmons' wish list will be around offense, and specifically, whether he can revive the disastrous 76ers attack?
1. Average six assists per game
Simmons is an elite ball handler for his size. He is very fast on a basketball court – perhaps even elite for someone with his stature – and has a diverse arsenal of offensive skills.
During 2016 Summer League, Simmons routinely bullied opposition defenders on the perimeter. We have previously reviewed Simmons' Summer League campaign in great depth, highlighting a number of video examples that demonstrate the big Australian's many skills. It was only a small sample, during NBA's silly season, but early returns were promising.
Summer League was simply an extension of Simmons' time at LSU, where natural talents alone were enough to dominate.
Someone of Simmons' height should not be able to do things like this on a basketball court. Fortunately for basketball fans, Simmons is blessed with a unique cocktail of skills, something that could make him a historical outlier.
Simmons was officially listed at 6'10" (208 cm) and 240 pounds (108 kg) last season. These are powerful measurements for a man who will be initiating the 76ers offence. By way of comparison, Simmons is taller and heavier than 2017's prototypical small ball center, Golden State forward Draymond Green.
There has even been speculation Simmons grew taller during his year away from basketball, something that should terrify for opposition defenders given his gaudy skill set.
Simmons is ambidextrous and has been utilising a lethal speed dribble, with either hand no less, to beat every defender he has ever come across. Life in the NBA will be a greater challenge. It will take Simmons time to adjust to playing against elite professionals. There will be mistakes and there will be growing pains, although Simmons's supreme talents will immediately serve him well, as will the burgeoning talent base in Philadelphia.
Simmons will play alongside more talent, relatively speaking, this year in Philadelphia than his lone season in college. That LSU team was a hodgepodge collection of limited athletes with limited potential. While Philadelphia's roster remains unproven, it is chock-full of budding talents that should mesh well with Simmons' extravagant ball handling skills.
Embiid and Redick are both elite shooters for their position, while Fultz proved that he is capable of knocking down the three-point shot in college, shooting 41.3 percent from long-range for the Washington Huskies. That gives the 76ers a trifecta of long-range snippers to deploy alongside Simmons in their likely starting line-up. More importantly, it gives Brett Brown the personnel his philosophy craves.
During his four years in charge, Brown's 76ers have taken the 7th most three-point field goal attempts, despite being the worst three-point shooting team in the NBA. The 76ers have also been above average for pace of play and assist rate under Brown, astonishing accomplishments given the questionable talent at his disposal.
Brown is a prototypical modern day basketball coach. He wants a spaced floor, the defence stretched, and the basketball flowing side to side. Brown's offensive scheme has been crying out for an elite ball handler to skilfully carry out his mission. Simmons should excel under his stewardship.
Simmons' jump shot will remain a question mark until proven otherwise, but there is no doubting his ability to playmake for others. He's showed an excellent ability to create offence for teammates during his junior career, and will be given every chance to prove likewise in the NBA. Expect Brown to place the basketball Simmons' hands, surround him with outside shooting, and let the rookie go to work.
It might not sound like much, but averaging six assists per game would place Simmons in rarefied air.
Only two players in NBA history, standing 6'7" or taller, have averaged six assists per game during their rookie season. Magic Johnson and Penny Hardaway are the only ones to do it, although it must be noted that LeBron James came extremely close, averaging 5.9 dimes per contest during his freshman season.
If Simmons can even average just five assists per game, he will be the tallest rookie to ever do so.
2. Transition dominance
Simmons has the talent to (one day) supplant LeBron James and Russell Westbrook as the most intimidating open floor weapon in the NBA. It's unfair to expect such dominance right away, but there should be plenty of flashes and social media moments this season. He is a one-man fast break, an athlete capable of bursting through retreating defences.
https://www.youtube.com/watch?v=N-71AWdfYDU&feature=youtu.be
There is nothing more dangerous for transition defences than a forward collecting a defensive rebound, going straight into a speed dribble and creating great looks for his teammates.
https://youtu.be/Zrkg29BMo9U
According to Basketball Reference, Simmons collected 26.8 percent of available defensive rebounds during his lone year at LSU. This provided copious opportunities for Simmons to utilise his power, speed and handles in transition. If Philadelphia can maintain discipline on the defensive end, Simmons will have the opportunity to attack and create early offence.
Philadelphia posted a defensive rating of 106.4 last season, ranking 17th in the NBA. With Embiid on the floor, this rating plummeted to 99.1, a figure that would have lead the NBA if maintained for a full season. A healthy Embiid could provide the defensive impetus to fuel Simmons' running game.
3. R E S P E CT
When last sighted in Summer League, opposition sides showed zero respect to Simmons' shooting ability. Teams packed the paint and built walls that would make Stan van Gundy's heart melt.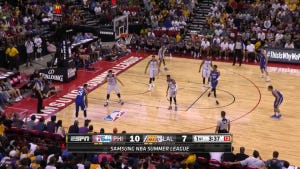 Simmons is perceived as a horrible outside shooter and it will take sustained evidence, to the contrary, to change perceptions.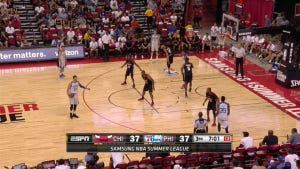 Outside shooting is the glaring limitation in his game. Simmons is said to have been working hard to improve his jumper and we will find out very quickly whether progress has been made.
The other 29 franchises are well aware of Simmons' talents. More importantly, they have quickly diagnosed his weaknesses.
Tactics used in Summer League will be the default philosophy for teams facing the 76ers. Expect his direct opponent to go under every screen. Opposition schemes will also fade away from Simmons anytime he is standing idle on the perimeter. That is the more pressing challenge.
Taking actual ability out of the equation, it is the perception of being a good shooter that's more important for Simmons and the 76ers offence. Until Simmons demonstrates he can shoot from the outside, the default assumption is that he can't. That's the bigger battle at play. The 76ers spacing will be compromised anytime Simmons is away from the basketball.
Given his explosive talents, Simmons doesn't need to develop into a knockdown shooter to effectively play away from the basketball. Simply being league average over the course of his career – the average was 35.8% last season - would elevate Simmons' ceiling from fringe All-Star to All-NBA candidate. Such accolades are years away, as is league average shooting based on Simmons' track record.
Even getting up to 34%, the career average of Lebron, should be threatening enough to deter opposition defences from ignoring Simmons on the perimeter.
There is no reason to doubt improvement is possible from Simmons. It appears a likely development, if you believe the hype surrounding Australia's newest NBA player, but it will take time. There will be a steep learning curve and a committed development process is required.
A bad shooting season won't rule out future improvements, nor will it determine whether his rookie campaign is a success. Nevertheless, it would be great to see signs of progress.
Showing off stable shooting mechanics is the first step. Confidently taking his jumper and trusting himself is the second. Simmons has the talent to become a competent outside shooter. He claims to have been working diligently on development of this skill. If true, improved results shouldn't be far away.