Discover more from The Pick and Roll
We're all about Aussie hoops. Independent, objective analysis and commentary. Insightful narratives built around Australian basketball. Read about our men and women in the NBA, WNBA, NCAA, Europe, national teams, NBL, WNBL, NBL1, prospects and more.
Over 2,000 subscribers
2020 NCAA Women's All-Australian Awards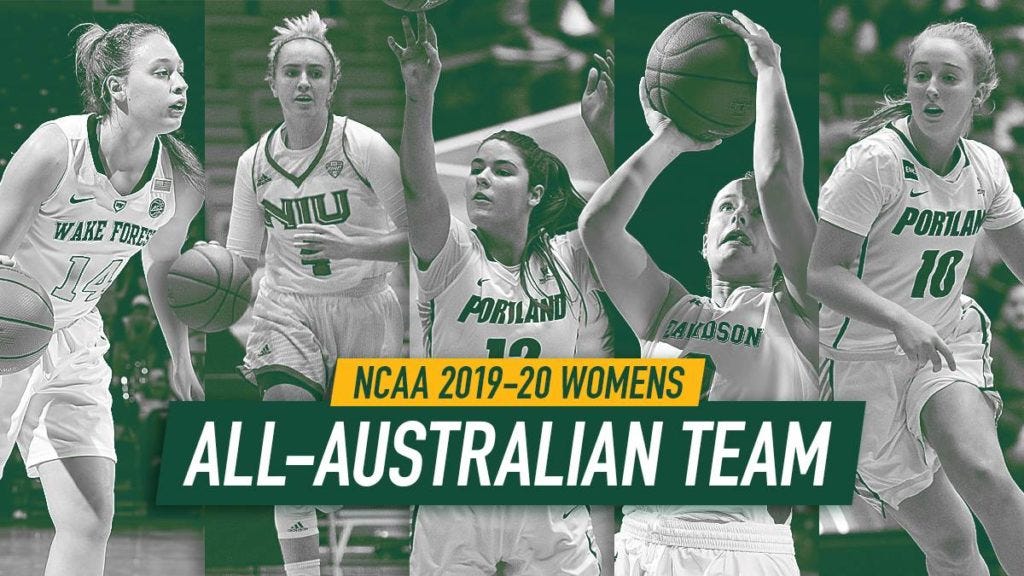 With over 100 Australian players featuring on NCAA Division I women's basketball rosters at the commencement of this season, and still 99 when the rug was pulled from under the campaign due to the COVID-19 pandemic, even being in the conversation for an All-Australian spot was a cut-throat competition.
The absence of Tiana Mangakahia and Shannon Dufficy for wildly different reasons and Jade Johnson's midseason injury opened up a few spots, but it still took something special to secure a spot in this All-Australian team.
However, one player stood out above all others, scooping the pool in a tremendous first season from someone that seemingly flew under the radar before dominating one of the premier mid-major conferences.
Player of the Year
Alex FOWLER | Portland
Having earned Under 19 World Cup All-Star selection, Alex Fowler looked to be a steal of a recruit for Portland, and that idea was proven throughout a dominant freshman season from the Queenslander. With an ability to run the floor not regularly seen in front court players combined with the skills to make baskets in close quarters and find teammates when required, Fowler's offensive weaponry transformed Portland's chances overnight. That's before even considering that Fowler is a player who'll happily pick off or deflect a pass into the paint, or send a shot back from where it came given the opportunity. With a combination with fellow Townsville product Haylee Andrews in place before she had even set foot on campus, things were setting up nicely for Fowler, but she still had to produce.
And produce she did. 29 double-figure scoring efforts in 32 games. Twelve 20-point games, including 35 alongside 7 rebounds against Santa Clara. 7 double-doubles, equal most of any Aussie alongside Alex Sharp. 18 points per game. 8 rebounds per game. Most steals of any Aussie. Second among Aussies in both scoring and rebounding. Fourth among Aussies in total blocks. 12th among Aussies for total assists. First-Team All WCC. WCC Newcomer of the Year. WCC Tournament MVP. WCC Champion.
https://twitter.com/PortlandWBB/status/1237506405512314880
And that's just in one season. The coronavirus pandemic robbed Fowler and Portland of a chance to play in the NCAA Tournament this year. They beat perennial favourites Gonzaga on their way there. Fowler has three more chances to lead the Pilots back to the promised land. Don't be surprised if they do it again.
Freshman of the Year
Alex FOWLER | Portland
If a freshman wins Player of the Year, then by extension they must have also won Freshman of the Year. It was a strong field though, with Suzi-Rose Deegan and Abbey Ellis in contention throughout the season and Sophia Locandro making a late charge. However, Fowler's opening campaign was beyond just about anything an Aussie freshman has produced in NCAA Division I women's basketball in recent years.
https://twitter.com/WCChoops/status/1234902642452680705
Fowler made it two Pilots in as many years picking up this award after Haylee Andrews' success in 2019/20, providing the platform for what could be a highly successful era of Portland basketball. With Fowler, Andrews, and Keeley Frawley all integral members of the squad and Western Australian Emma Strelein joining in 2021, Portland might be starting to beat conference foes Saint Mary's at their own game.
Defensive Player of the Year
Alex FOWLER | Portland
When a player leads all Australians in total steals and finishes fourth among her countrywomen for total blocks, it's fair to say that she probably had a good season at the defensive end. That is exactly what transpired for Alex Fowler as the freshman sensation immediately became one of Portland's most crucial players. Having conceded 75.8 points per game to sit in the bottom 3% in the nation in scoring defence in 2018/19, the Pilots shrunk that number to 63.0, with Fowler a large part of that turnaround as they moved into the top 40% in the nation. Tasked with some demanding matchups throughout the season, Fowler refused to let that worry her, even during occasional foul trouble. Her ability to adjust in those situations shone through at times as teams tried to force the freshman into that fourth or fifth foul, and if Fowler can avoid being in those situations more often in future, there is a defensive juggernaut just waiting to happen on the banks of the Williamette River.
First Team
Haylee ANDREWS | Sophomore | Portland
Haylee Andrews enjoyed an outstanding freshman season, and only built on that in 2019/20 with. After being picked to finish last in the league, a partnership with fellow Townsville product Alex Fowler helped lead Portland to an WCC Championship before the coronavirus pandemic stripped away their first NCAA Tournament berth in 23 years.
An All-Freshman selection in 2018/19, Andrews built upon a season in which she posted 11.8 points, 4.6 rebounds, and 4.1 assists, improving in all three major categories. 16 points and 5.7 rebounds per contest trailed only Fowler in both categories, whilst her 5.5 assists predictably led the team comfortably. Unsurprisingly, an All-WCC Second Team selection followed, and a first team selection couldn't have been far away. The memories of game-winning shots in the West Coast Conference tournament may be those that endure, but the sophomore provided highlights galore throughout Portland's impressive season.
https://twitter.com/PortlandWBB/status/1237499872237875200
With a combination of decision-making abilities beyond her years and the skillset to execute those decisions, Andrews is already among the top players in the West Coast Conference, and still has two years left to terrorise opponents. Gonzaga may remain perennial favourites for the league, but Andrews, as one part of the Australian trio featuring Fowler and Keeley Frawley, has already ensured nobody will be seeing Portland's championship as a flash in the pan.
Suzi-Rose DEEGAN | Freshman | Davidson
A certain air of confidence follows Suzi-Rose Deegan wherever she goes, so it was hardly surprising to see the Western Australian come straight in and take control at Davidson. A 31-point outing against Kansas City just four games into her career set the freshman on her way, claiming her first of six Atlantic 10 Rookie of the Week awards in the process before adding a Freshman of the Year and All-Conference First Team honours to those selections.
https://twitter.com/DavidsonWBB/status/1235637131399356416
Possessing a dangerous mix of athleticism and silky skills, Deegan wasted no time making her mark on the scene in her first campaign. After spending the first 12 games of her career coming off the bench, a spot in the starting lineup opened up and the freshman grabbed it with both hands. Posting 30 points and 9 rebounds against Charlotte in her first start, only a couple of appearances off the bench in the wake of a brief injury layoff broke Deegan's streak of starts that would last for the remainder of the season.
When the dust finally settled on Davidson's 16-15 season, Deegan had posted double figures in all bar six appearances, including five games of 25 or more points, including the aforementioned 30 and 31 point games. With six double-doubles in hand, Deegan wound up posting 15.9 points and 7.7 rebounds per contest, leading the Wildcats in scoring and finishing second in rebounding. With still three years in the college game up her sleeve, there is no telling what heights the Western Australian could reach from this platform.
Courtney WOODS | Senior | Northern Illinois
Coming back from an ACL injury is regularly filled with questions about a player's ability to return to their previous level. However, four 20-point games in in the opening month of the season suggested that Courtney Woods would have no trouble finishing her career in the same way it had progressed for the previous four years – racking up points for fun. Despite not reaching the heady heights of the 22 point average posted in her junior year, Woods still posted the second-highest scoring full season of her career, notching up an Australian-leading 18.1 points alongside 6 rebounds per game.
https://twitter.com/GoHuskiesWBB/status/1237378804861075459
Once again, Woods demonstrated throughout the season her ability to score in a number of ways. A midseason lapse meant her three-point percentage didn't hit the same marks as in previous years, but consistency from closer range and at the charity stripe ensured that the senior remained a reliable contributor right until the end of her Huskies career. That was evidenced by a season-high 36 point outing in the penultimate game against Toledo. Woods shot 11 of 18 from the field, 3 of 7 from deep, and 11 of 12 at the stripe to grab a win in her final regular season game and remind everyone, one last time, what they'll be missing in future seasons. Hopefully, Aussie fans will be able to catch her in the WNBL in the not-too-distant future.
Alex SHARP | Senior | Wake Forest
Some things are just certainties in life, and when it comes to Alex Sharp those are: solid scoring, better rebounding, and an ultra-reliable player at both ends. Having endured an injury-interrupted junior year, Sharp bounced back to post almost identical numbers across a full 31-game campaign, putting up 12.3 points and 8.7 rebounds per game. As expected coming into the season, Sharp led all Australians in rebounding, and also developed into a solid if underutilised three-point shooter. Having shot just 32% from deep in the previous season, Sharp improved that number to 40% in her final season, adding another string to her bow to become a danger from all areas.
https://twitter.com/WakeWBB/status/1239911395694501888
Playing in one of the nation's top leagues in the ACC, Wake Forest have regularly found themselves up against it in the face of foes such as Louisville, North Carolina State, and, in past seasons, Notre Dame. Despite that, Sharp has battled away to keep the Demon Deacons competitive, with this season culminating in seven conference wins, the team's most in the senior's time in Winston-Salem. The true effect that Sharp had on this team may not be felt until next season, but hopefully it is seen more in the level of recruits that the Demon Deacons are able to secure in the future than it is in the hole the program legend will leave as she moves on to the next stage of her career.
Alex FOWLER | Freshman | Portland
Teams like Portland don't secure commitments from players like Alex Fowler. That is, unless they do, and she leads them to a conference championship. Were West Coast Conference coaches sleeping on the Under-19 World Cup All Star when they picked Portland to finish last in the league, or did they think the Pilots would finish last even with a player of that calibre added to the lineup? Either way, Fowler and her teammates made a laughing stock of the poll with a season that was tremendous enough in and of itself as they posted a 4th placed finish in the league standings.
Fowler had already established herself as a force to be reckoned with, but was forced to take on more of the load just a month into the season as fellow starting forward Liana Kaitu'u suffered a season-ending injury. Fowler barely blinked, continuing on her merry way to post 18 points and 8 rebounds per game. Both those numbers proved good enough for second among Aussies, behind only Courtney Woods in scoring and Alex Sharp in rebounding. The Queenslander also finished as the WCC's leading scorer and fourth in the conference for rebounding, whilst sitting comfortably in the top ten in the league for blocks and steals per game.
Having already posted the second-highest single-season scoring and rebounding marks in Portland history in just her freshman year, the sky is the absolute limit for Fowler. Continuing to team up with fellow Aussies Keeley Frawley and Haylee Andrews, the trio will be hoping to ensure that this season's conference championship was only the beginning of something bigger and better.
Second Team
Abbey ELLIS | Freshman | Cal Poly
In most seasons, Abbey Ellis' performances for Cal Poly would have earned a player Freshman of the Year honours. That it took performances such as those that Deegan and Fowler produced to knock Ellis out of contention for the award only speaks to just how impressive her first season was. However, conference honours were forthcoming as Ellis secured a spot in the Big West All-Freshman team as well as an All-Conference Honourable Mention.
Quickly forming a dynamic combination with Oregon transfer Sierra Campisano, Ellis started in her first competitive game for the Mustangs and never looked back as the duo turned a previously lacklustre team into a competitive outfit. Ellis would finish the season as the team's second-leading scorer with 15.6 points behind only Campisano, adding a potency to the offence not expected of many freshmen, but very much valued by the team and the Mustangs' faithful. Whether getting to the basket, knocking down threes at a respectable rate, or dishing to teammates, Ellis kept defences guessing throughout the season, helping Cal Poly lift their win total from 6 in 2018/19 to 11 in 2019/20 before their season was cut short midway through the Big West tournament.
https://twitter.com/CalPolyWBB/status/1237109891916902400
Finishing her freshman campaign with a second 30-point game of the season against UC Irvine, and with partner-in-crime Campisano returning for her senior year, the pieces are coming together nicely for Ellis to jump to an even higher level in her sophomore season. Having posted a 6-10 record in conference play, the platform is also there for the Mustangs to move on to brighter things with Ellis heavily involved.
Sam SIMONS | Sophomore | Saint Mary's
Saint Mary's may only have had one playing Aussie on the roster this season, but that one – Sam Simons – provided more than enough highlights in earning a WCC All-Conference First Team selection alongside Alex Fowler. Having lost a slew of stars following the 2018/19 season – including Aussie trio Carly Turner, Megan McKay, and Jasmine Forcadilla – Simons found herself one of the undoubted leaders of the Gaels' lineup, and performed valiantly throughout what became something of a rebuilding season for Saint Mary's.
https://twitter.com/GaelsWBB/status/1234903515081789440
Shooting just shy of 40% from deep and 84% at the line, Simons parlayed that accuracy into a team-leading 16.3 points per game, good enough for 3rd in the entire West Coast Conference. The sophomore also collected 5.4 rebounds per contest as part of a four-player core group that provided the vast majority of the Gaels' output in most categories. Simons also finished second among the Gaels' roster for both assists and steals, regularly demonstrating her all-round game on her way to all-conference honours in a season-long valiant effort.
Unfortunately, with little support coming, a famous victory over Gonzaga proved to be one of only six conference wins in 2019/20. But with all four of the Gaels' top scorers returning, Aussie transfer Jade Kirisome eligible after a year out, and incoming Australian freshman Leia Hanafin to bolster the side, Simons will have all the support she requires as she prepares to lead Saint Mary's back to more successful times over the next two years.
Callie BOURNE | Sophomore | Idaho State
Having earned 20 starts in her freshman year but chipped in just 4.1 points and 3.6 rebounds per game, there was a sense that there was more to come from Callie Bourne in her second year at Idaho State. Evidently, that was true as the sophomore quickly found her feet in her second campaign to emerge as an integral part of the Idaho State starting five.
12th among Aussies in scoring and fifth for rebounding despite standing just 5'9, Bourne posted an even 12 points per contest alongside 6.7 boards and 1.9 assists. That rebounding number actually led Idaho State by 1.9 per game, an achievement made more impressive by the fact that nine players on the Bengals' roster stand taller than Bourne, let alone the opposition players that towered over her at times. On a roster with just one senior, Bourne stood up as a leader this season in a young team that managed to post an 18-13 record despite losing program legend Grace Kenyon from last season's 20-11 team.
With just one senior on this season's roster, Bourne will lead a stable Idaho State team into 2020/21 as they look to return to the NCAA Tournament for the first time since the 2011/12 season. That team also featured an Aussie junior in Ashleigh Vella. Perhaps that can be the common link.
Amy ATWELL | Junior | Hawaii
In a season that saw Australian three-point shooting drop off after last season's incredible numbers, Amy Atwell bucked the trend to shoot a remarkable 45.3% from beyond the arc. Steadily improving from 28.1% in her freshman to 36.8% as a sophomore, another jump may have been expected, but becoming the sixth-best three-point shooter in the nation? That's massive. That shooting led Atwell to more than double her scoring output from 4.8 to 10.6 points per game, whilst doing the same on the boards as her rebounding numbers increased from 2.4 to 4.9 per contest. That was despite playing just 22 minutes per game, which only makes those numbers all the more impressive.
https://twitter.com/BigWestHoops/status/1237083499552591873
Whether starting for the Rainbow Wahine or transitioning into a sixth woman role after a brief injury layoff in early January, Atwell delivered time and again, culminating in selection as the Big West's Best Sixth Player. A 24 point outing in a famous win over Texas was perhaps the single-game highlight, but it was the junior's improvement from her first two seasons to this year that really caught the eye. Should that development continue into her senior year, Atwell could yet lead Hawaii out of a highly competitive pack of Big West teams and into another stratosphere.
Monique ANDRIUOLO | Junior | Pepperdine
After averaging just 2.9 points and 1.3 rebounds in her sophomore year – both of which were down on her freshman numbers – Monique Andriuolo would have been long odds to even be in the conversation for an All-Australian mention at the start of the season. And for the first five games of this season, it looked as though little had changed, particularly at the offensive end. However, a confidence-boosting 22-point, 7-rebounds outing against Cal State LA flipped a switch for the junior, who immediately transitioned into one of Pepperdine's most consistent players, going on to average 9.7 points and 7.3 rebounds per contest, trailing only Alex Fowler, Suzi-Rose Deegan, and Alex Sharp among Aussies in the latter category.
Andriuolo didn't often have massive games, but nor did she go more than one or two games without putting double figures in either the points or rebounds column. Even when she did, it was routinely a performance in which the junior posted solid numbers in both categories as she regularly found a way to contribute in some way. Andriuolo's improvement also allowed Pepperdine to outstrip expectations in the West Coast Conference. Having been tipped to finish 7th in the league, the Waves marched their way to the tournament semi-finals after finishing 6th, overturning #3 seed BYU in a game that saw Andriuolo chip in a solid 12 points. With one year left in Malibu, Andriuolo has made that step to another level this season. If she can make another step in her senior year, and the Waves have fellow Australian Mia Satie available for the entire campaign, conference tournament semi-finals might become the expectation rather than a surprise.
Honourable Mentions
The list of honourable mentions covers a range of players who narrowly missed out for a variety of reasons. Jade Johnson found herself gunning for a certain spot in one of the two All-Australian teams before injury saw her college career sadly wrap up far earlier than anticipated. Johnson was just one of a number of elite back court players who were agonisingly close to securing a spot, including Tia Hay, Ahlise Hurst, Georgia Dale, Claire Jacobs, and Australian assists leader Jess McDowell-White.
UC Irvine freshman forward Sophia Locandro was also close to a spot, perhaps being edged out by Monique Andriuolo. Midway through the season, Locandro was enjoying a solid but unspectacular start to the season, but forced her way into the conversation with a dominant back end to conference play. As of New Year's Eve, Locandro averaged just 5.5 points and 3.1 rebounds per game. Then conference play happened. By the end of the season, Locandro had doubled her scoring average to 11.0 points per contest and improved her rebounding to 5.4 per game. Should this elicit comparisons to Alanna Smith's sophomore season, in which the now-Opals player went to another level after Christmas? A direct comparison would be too far a reach, but there is no doubt that there is a similar element of sudden improvement across both players. Should the freshman produce a full season of that calibre, a spot in the All-Australian list for 2020/21 can be inked with Locandro's name right now.
It would also be remiss to not mention Utah Valley sophomore Eve Braslis as another front court player who made a case for a spot. Posting almost identical numbers to her freshman year, in which she did gain an All-Australian nomination, Braslis put up 10.4 points and 6.0 rebounds per game for a Wolverines side that finished 12-16 overall, but 9-6 in conference play. However, we will be seeing Braslis in a different jersey next time she steps foot on court, with the Victorian having entered her name into the transfer portal.
Then, of course, there is Chloe Bibby. Coming back from a season-ending ACL injury, the Mississippi State star's scoring numbers may have been down from 11.9 to 7.5 points per game as her three-point shooting wavered at times, but that doesn't mean the junior's impact was limited as she remained an integral part of the Bulldogs side at both ends. The numbers may not show it as much as in 2018/19, but no player who retains their starting spot for all bar two games in a team that finished ranked #9 in the AP Poll could be considered to have a bad season. Bibby's rebounding numbers also improved from 4.1 to 5.2 per game, and if that shooting that we remember from the first half of the 2018/19 season returns, there is another All-Australian First Team berth beckoning for the star from Warracknabeal.