Discover more from The Pick and Roll
We're all about Aussie hoops. Independent, objective analysis and commentary. Insightful narratives built around Australian basketball. Read about our men and women in the NBA, WNBA, NCAA, Europe, national teams, NBL, WNBL, NBL1, prospects and more.
Over 2,000 subscribers
2020 NCAA Men's All-Australian Awards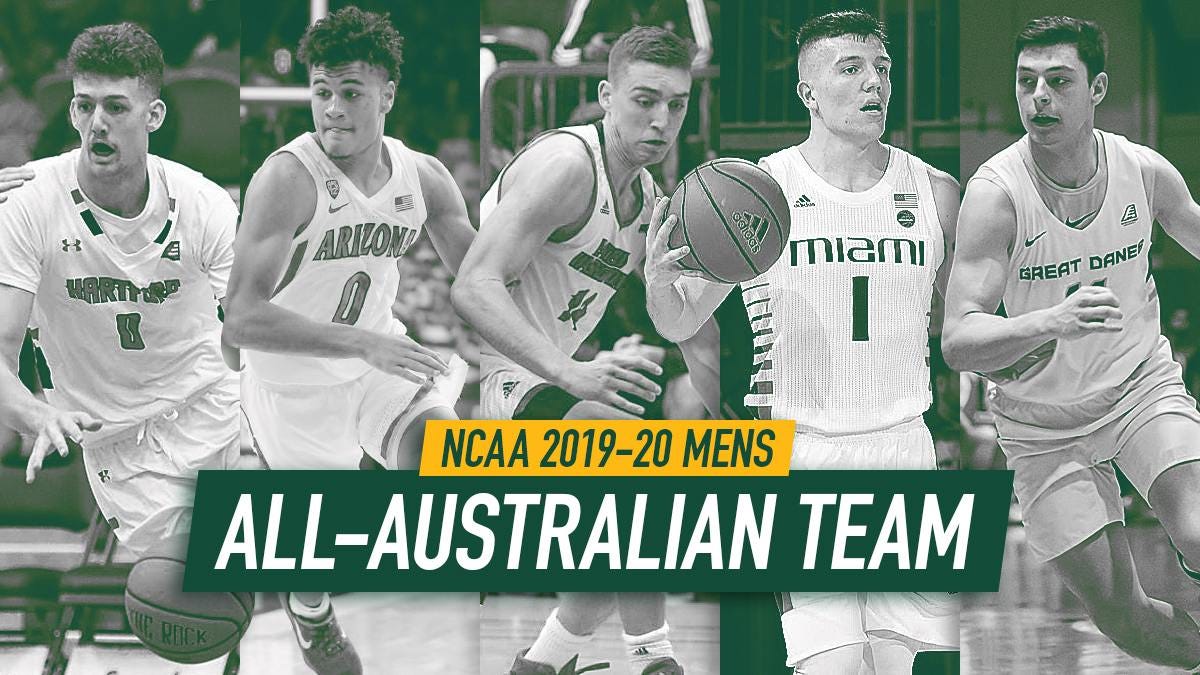 64 Aussie men were on Division I rosters this season, with an incredible 20 of those incoming freshmen. While COVID-19 put an early end to most conference tournaments, it totally wiped out the NCAA Tournament to put a dampener on March.
As we say hello to April, we take a look back at the 2019/20 season by the talent from down under and hand out our end of season awards.
Player of the Year
Mason PEATLING | Eastern Washington
Josh Green may boast a higher profile, but Mason Peatling was the clear standout Australian in Division I basketball in the 2019/20 season.
The versatile 6'6 forward from Dandenong delivered an outstanding season for Eastern Washington. Not only did he guide the Eagles to the Big Sky Conference regular season Championship, he picked up three Player of the Week awards en route to being named Big Sky MVP.
Averaging a double-double across the season is no mean feat, but that is just what Peatling managed to do in conference play. 18.5 points on 56 percent shooting from the field with 10.4 rebounds, 3.8 assists and 1.7 blocked shots per game is great going, and it included an amazing 11 double-doubles in his last 15 games as an Eagle. He would also go on to earn NABC All-District 6 honours, while also being recognised for his achievements in the classroom as a first team Academic All-America selection.
In a groundbreaking season for the Eagles, it was Peatling at the heart of their success. He scored 20 or more points ten times throughout the season, punctuated by a Big Sky record-breaking 54 point explosion in just 24 minutes in an exhibition win, a performance that had everyone talking and yet it was just an entree to what he would serve up all season long.
The only thing missing from his near-perfect season for Peatling was a trip to the NCAA Tournament, a dream that evaporated thanks to the COVID-19 global pandemic.
Freshman of the Year
Josh GREEN | Arizona
On a team featuring as many as three first round NBA draft picks, Green emerged as one of the most promising athletic talents and with an extremely high ceiling. Named to the Julius Erving Award Preseason Watch List and Preseason Pac-12 Second Team, there were high expectations for Green and he did not disappoint.
The New South Welshman averaged 12 points, 4.6 rebounds, 2.6 assists and 1.5 steals per game to shine in his rookie year. While his offensive game is still a work in progress, he still managed to shooting 36.1% from long distance and 78% from the free throw line while averaging double figures in points scored - numbers that were better than fellow Arizona backcourt partner Nico Mannion.
He would score in double figures in 18 of his 30 games played, including two 20-point outings. His season-high of 24 points came in a win against Pepperdine, alongside 8 rebounds and 5 assists to highlight his versatility and playmaking potential. As a projected potential lottery pick, whether Green nominates for the 2020 NBA Draft is yet to be decided. With fellow Arizona freshman Zeke Nnaji already nominating, the temptation to follow suit will be there for Green. Watch this space.
Defensive Player of the Year
Josh GREEN | Arizona
This was an easy choice. With 46 steals at an average of 1.5 per game, not only did Green lead his team, but also every Australian. He finished the shortened season due to COVID-19 ranked sixth all-time by a freshman at Arizona for steals such as his performance.
It is Green's length (6'10 wingspan!), athleticism and ability to read the play which makes Green such an elite defender and NBA Draft prospect. He moves his feet with great lateral movement and therefore is able to stay in front of the ball handler. Standing at 6'6, Green also has good size for a guard, enabling him to defend multiple positions. His ability to defend could see him contribute at NBA level immediately should he nominate for the 2020 NBA Draft.
First Team
Cameron HEALY | Sophomore | Albany
While it was Mason Peatling who finished the season as the highest scoring Australian in college hoops, Cameron Healy was hot on his tail all season.
The sophomore guard averaged 14.2 points, 4.0 rebounds and 2.2 assists per game, and was a consistent scoring threat, especially across the first three-quarters of the season where he was dominant. The only thing that slowed him down was a nagging hip injury late in the season, which coincided with Albany's 6-game losing streak to close out the year in the quarterfinals of the America East tournament.
Healy is one of the best free throw shooters in the nation, hitting at 90.8% from the charity stripe which placed his first in the America East and fifth overall nationally. He also hit the three-ball at 35.6% for the Great Danes, good enough for second best in his conference. He managed to create an amazing streak of 58-straight games dating back to last season where he made at least one made three-pointer, yet it came to an end in February.
Healy also delivered one of the best scoring performances by any Australian in college basketball history. The New South Welshman carved out a school record 41-point performance with 7 rebounds in a win against UMass Lowell. He would end up being named America East Player of the Week.
Dejan VASILJEVIC | Senior | Miami
Dejan Vasiljevic capped off his collegiate career by saving his best for last. As one of just three Hurricanes to appear in all 31 games, he started in each of them as he went on to average 13.2 points with 4.2 rebounds and 1.0 assist in a team-high 33.8 minutes per game. He also finished sixth in the ACC in made 3-pointers game (2.35), as well as eleventh in minutes per game and seventeenth in scoring.
"DJ" was one of the most consistent scorers at Miami, scoring in double digits in all but eight of his games during the season. He exploded for a new career-high 25 points on 9 of 13 shooting against Missouri State at the Charleston Classic to show what he is capable of.
Such was his proficiency from beyond the three-point arc, Vasiljevic hit 3 or more triples 14 times during the season. In ACC-only action, he tied for tenth in made three's -pointers per game on his way to finishing seventeenth in ACC history and second among Hurricanes in career made threes (272).
A Senior CLASS Award candidate and All-ACC Academic Team member demonstrates that the Melburnian is able to get it done on and off the court. While Vasiljevic is being courted by NBL teams, with a dual passport in hand (Serbia) he will be able to play as a local in Europe so he will have no shortage of options to consider as he looks to enter his first year as a pro.
Josh GREEN | Freshman | Arizona
Josh Green had an exceptional freshman season at Arizona. He was third on his team in scoring behind two other likely 2020 NBA Draft lottery picks. He may well join both of them in the NBA as soon as next season and could even force his way onto the Boomers team at the rescheduled 2020 Tokyo Olympics which will now take place in 2021.
Hunter MARKS | Sophomore | Hartford
The 6'9 forward from Phillip Island is making his own mark in Hartford, with his sophomore year growth nothing short of sensational.
As a freshman, Marks averaged just 2.9 minutes per game across 11 games. What a difference a year makes, with the Victorian playing all 33 games in which he was one of three players to average in double figures for points. He averaged a remarkable 34.9 minutes per game -- the most of any Aussie this season -- finishing with averages of 10.8 points, 6.1 rebounds, 1.6 assists and 1 steal per game.
Marks was second on the team in rebounding and blocks, while his 41 three-pointers made at a 35.1% clip, are third-most on the squad. His back-to-back 17-point and 5-rebound games in the America East Tournament helped the Hawks advance to the Championship game, alas it was called off due to the COVID-19 pandemic, preventing them from a possible run at the NCAA Tournament. He was however acknowledged for his performances off the court, named to the America East All-Academic Team.
Marks' emergence was impressive, and it is scary to think how much better he could be when he returns to Hartford next season for his junior year.
Mason PEATLING | Senior | Eastern Washington
Such was Peatling's impact this season, the Eagles recorded their second highest win total in 37 years as a NCAA Division I member with 23 victories, while their 16 league wins were the most in their 33 years in the Big Sky! Eastern Washington boasted one of the most potent offences in the nation, ranking sixth in scoring offense (80.9 per game) and fourth in assists (17.5) and Peatling's contributions were paramount to that success.
On the season, Peatling averaged an Australian-best 17.2 points, 9.1 rebounds, 3.2 assists and 1.5 blocks. Included in his schedule were two games in which he came within three assists from a triple-double. He finished his career with 118 games played, 1,250 points, 725 rebounds, 112 blocked shots and shot 55.5% from the field, ranking him inside the top twelve in all categories in school history.
Peatling leaves Cheney as just the sixth player in school history to have at least 1,000 points and 525 rebounds in his career, and just the second to do so with 50 blocked shots - the other to do so was fellow Australian Venky Jois.
Second Team
Tanner Krebs | Senior | Saint Mary's
Tanner Kreb's senior year was almost a carbon copy performance from what he delivered 12 months earlier.
His shooting percentages, points, rebounds and just about everything else where almost on the money from his junior year, providing 9.1 points, 3.9 rebounds and 1 steal in playing 30.2 minutes per game. He shot the ball at 41.5% from the field, 39.1% from long range and a very good 85.4% from the free throw line. A solid, all-round role player and deadly knock-down shooter. The ideal player for head coach Randy Bennett's offence.
Saint Mary's once again advanced to the West Coast Conference Tournament final, falling short to arch-rivals Gonzaga. It was also arguably his quietest game of the year, and was most unlike what Krebs had delivered all season long. His posted a season-high 20 points in a win against Lehigh and went close to a perfect shooting game against Loyola Marymount. In crafting 19 points against the Lions, Krebs shot 7 of 7 from the field including 3 of 3 from three-point territory, missing just one of his 4 free throws in that win.
The Tasmanian was an important player at the Gaels, and his services are likely to be coveted by NBL teams. The new Tasmanian side is surely looking to bring one of their own back home soon.
Makuach MALUACH | Junior | New Mexico
Like Krebs, Makuach Maluach delivered another consistently good season for New Mexico, almost matching his averages of 12 months ago. A regular starter, he was also one of the Lobos most important players throughout 2019/20.
He lifted his shooting percentage to 48% from the field on his way to averaging 9.6 points, 4 rebounds and 2 assists per game as the Lobos finished the year with a 19-14 overall record. The 6'7 guard posted a season best 22 points on 8 of 11 shooting to go with 7 rebounds, 3 assists and 2 steals in the first round of the Mountain West Tournament to demonstrate his ability. However the Lobos would hit a roadblock in the quarterfinals against Utah State and bow out of contention.
Maluach is long, athletic and oozes potential. He has become an integral role player with the Lobos, and looking ahead to his senior year may well be expected to lift another gear in 2020/21.
Keli LEAUPEPE | Freshman | Loyola Marymount
Apart from Josh Green, no other Australian freshman played more minutes, scored more points or shot better from the field than Loyola Marymount standout Keli Leaupepe.
The 6'6 forward from Melbourne took to college hoops like a duck to water. He started the year off strongly with a 15-point debut, and ended it by cemented his position as a starter with two strong performances in the West Coast Conference Tournament which included a career-first double-double in an opening round win against San Diego.

Leaupepe would finish his rookie season with averages of 9.1 points and 3.1 rebounds in playing 21.9 minutes per game. Yet those numbers don't exactly show how dominant he could be, with three 20-plus point games in WCC play, including a career-best 25 points on 8 of 12 shooting against Portland. In that game he also made all seven of his free throws and pulled down 7 rebounds, backing up his earlier 24-point and 8-rebound effort against the Pilots earlier in the schedule, a game in which he connected on 4 of 5 three-pointers.
A fantastic debut season was rewarded too, with Leaupepe named to the All-WCC Freshman team. If his freshman season was an entree, we can't wait to see what is for mains next season!
Myles CHERRY | Senior | Lafayette
Myles Cherry rounded out his college career at Lafayette with his best season yet.
Across 30 games played, he almost doubled his scoring output from a year earlier in providing 9.9 points per game. His 7 rebounds per game was second to only Peatling of all the Aussies, while he also handed out 2.2 assists per outing. Shooting an Australian-best 56.1% from the field, he also showed he could hit the three-ball, doing so at a 31.3% clip.
A hard working forward from New South Wales, Cherry posted a new career-high of 22 points on 9 of 10 shooting and had 7 rebounds against Navy. His ability to find the open man is also a strength, and something that will prove helpful as he looks to find his first pro gig.
Grant ANTICEVICH | Junior | California
Another New South Welshman rounds out the All-Australian team for 2019/20, with California's Grant Anticevich muscling in on the second team. The 6'8 junior forward worked his way into the Golden Bear's starting lineup and cemented his place by being a reliable performer game in and game out.
Anticevich registered two double-doubles during the season, including an impressive 16-point and 10-rebound effort against Stanford. His career-high came against California Baptist, shooting a perfect 5 of 5 from beyond the arc and 9 of 11 from the field overall to log 23 points with 9 rebounds and 4 assists capturing plenty of attention.
The forward shot better than 40% from the field and 36% from beyond the three-point arc, allowing him to stretch opposition defences. this past season. A no-nonsense player, Anticevich's versatility will be valued as Cal looks to return to its former glory in the Pac-12 next season after finishing in the bottom three.
Honourable Mentions
There is always someone who misses out, and probably the unluckiest this season was Chier Maker.
The 6'8 senior Idaho State star posted a career-best 10.7 points alongside 5.8 rebounds in 31.4 minutes per game. Despite boasting an 8-22 record during the season, Maker was one of the few shining lights to stand out for the Bengals during a difficult season. His best outing was a 24-point and 7-rebound effort against Big Sky Champions Eastern Washington and he posted two double-doubles during the season.
Quinnipiac junior guard Jacob Rigoni can also consider himself unlucky. A knock-down 40.3% three-point shooter throughout the season, Rigoni provided 8.6 points and 3.1 rebounds for the Bobcats. His best scoring output came in a win against Rider where he amassed 21 points and drained a scintillating 7 of 8 three-pointers. He highlight moment though of the 2019/20 season was when he hit the game-winner against Fairfield.
Kyrin Galloway rounds out the honourable mentions, with the 6'8 senior forward ultimately muscled out of the All-Australian teams by the sheer front court depth from down under in college hoops this season. In starting all 26 games, he managed to come up with 8.6 points and 4.1 rebounds per game for UNC Greensboro. His rim protection was outstanding, with his 1.7 blocks per game leading all Australians. He also hit the three-ball at 35% during the season, leading his team with 56 three's made. His best performance was a 19-point, 3-rebound and 4-blocked shot effort coming against Samford.
---
For a listing of all the Australian men in Division I basketball in 2019/20, please click here.