Discover more from The Pick and Roll
We're all about Aussie hoops. Independent, objective analysis and commentary. Insightful narratives built around Australian basketball. Read about our men and women in the NBA, WNBA, NCAA, Europe, national teams, NBL, WNBL, NBL1, prospects and more.
Over 2,000 subscribers
2016/17 NBL Round 8 Power Rankings: The impossible task
Recapping Round 8:
8th beat 2nd

7th beat 1st

6th beat 3rd

Illawarra won in Perth

8th beat 1st
That set of results makes this week's power rankings borderline impossible. Seriously, how can you rationally rank these teams one-through-eight at the moment? Thus, a caveat must be placed here, instead of saying it in each team's comment – take these rankings with a grain of salt. They're extremely fragile and can change in an instant.
There is no worst team in the league, nor is there a standout. However, the power rankings must go on, so lets begin, in an edition that's set to spark much discussion.
These power rankings are the opinion of one man. To discuss the rankings, hit Luke up on Twitter at @lukesicari.
---
1. Cairns Taipans (Last week: 6th)
The Taipans enter top spot this week based on the quality of their five victories.
Cairns has defeated New Zealand twice, Melbourne (albeit a banged-up verison), Illawarra and Sydney, proving they can hang with the best of them. This week's win over the Breakers was mightily impressive, and showed how much of a difference a healthy Travis Trice makes.
Trice's 31-point performance gave the Taipans' offence, one that ranks equal-last in the league, a much needed energy boost. Aaron Fearne's squad is one that executes well on the offensive end, but usually hasn't got the talent to match the execution. With Trice, though, Cairns has an aggressive scoring machine that not many defences can match.
With Cam Gliddon struggling to recapture his preseason form and the rest of the roster devoid of elite scoring talent, Trice serves as the Taipans' ace. We know Fearne's squad is going to slow down the pace, play strong defence and execute. Trice actually gives Cairns tangible results, though, and is the player who gives them a different look.
As mentioned off the top, there has been no standout team. However, based on how they've played against the league's best, Cairns deserves to sit pretty atop of the rankings for this week.
---
2. Melbourne United (Last week: 7th)
Casper, we see you.
https://twitter.com/NBL/status/802459920016642048
Seeing how well Casper Ware has slotted into the United line-up makes you wonder how much of a drift existed between Cedric Jackson and the team. That's the past, and as coach Dean Demopoulos suggested after Saturday's win over Sydney, his team is looking forward, not back. So we'll do the same.
Ever since Ware came down, and Chris Goulding returned, Melbourne is playing the way we all expected them to. The offence looks devastating, and not just because of the individual talent. Six players tallied double-digits against the Kings, the kind of offensive spread that this team needs to keep defences honest. At this week's media availability, Demopoulos mentioned "47-10," in relation to the Golden State Warriors having 47 assists and 10 turnovers in a recent outing.
While it's unlikely United reaches that level in a 40-minute game, the foundation of a good offence is the same. Ball movement, heavy off-ball action and making the extra pass were all elements we saw from Melbourne against Sydney, where they had 18 assists and just five turnovers. It's the type of system that'll see Melbourne make a second-half run into the top four.
---
3. Illawarra Hawks (Last week: 5th)
The streak is over! Embed from Getty Images
No, we aren't referring to Michael Cole's call of Brock Lesnar defeating the Undertaker at Wrestlemania 30 – but Illawarra's first win in Perth since 2005 and in 25 attempts deserves the same type of treatment. You know how much power rankings rewards history, so this sees the Hawks soar into third.
What's gotten lost in the rightful hoopla of the Hawks' historic win is the manner in which they did it. Illawarra found themselves down 14 points mid-way through the first quarter. Any other game, and this margin would eventuate into a big road loss. However, a late rally to end that period, and subsequent domination in the second and third quarters, was enough to give the Hawks a victory. Throw in the fact Marvelle Harris was out and the win gains more credibility.
Rob Beveridge's gutsy decision to move former MVP Rotnei Clarke to the bench is paying dividends. After a so-so start to the season, Clarke has responded with a pair of 20-plus point outings, helping the Hawks bench contribute 35.2 points per game.
Illawarra is now on a winning streak, and with the league's second-ranked offence finding new kinks to exploit, they may be poised for more success.
---
4. Sydney Kings (Last week: 1st)
A lot can change in a week. Embed from Getty Images
After looking almost invincible at the end of Round 7, the Kings dropped two winnable games on the weekend. Sydney was poor from the get-go against Melbourne, with their top-ranked defence leaking points in every way. United got whatever they wanted in the pick and roll, as the Kings' switching and trapping schemes weren't effective. This led to numerous missed rotations, giving Melbourne easy shots. The offence was good, but as Andrew Gaze mentioned post-game, giving up 95 points in 40 minutes is too many.
While they didn't give up 95 against Adelaide, 91 isn't that much of an improvement. The Kings were lackadaisical against the Sixers, turning the ball over 16 times, which proved to be the difference. On the stats sheet, Sydney had a higher shooting percentage, more rebounds and more assists, but a lack of attention to detail in the fourth quarter saw them go down to the bottom-placed side.
The Kings have earned the right to still be considered the title favourite, but it wouldn't be fair to keep them first in the rankings. Another thing to monitor is the constant foul trouble of their bigs, as Greg Whittington, Josh Powell and Aleks Maric all rank in the top-six for fouls per game.
(P.S. It wouldn't be right to talk about Steve Blake's departure in basketball terms, considering it's a serious family issue. All we can do is wish Steve the best, and thank him for choosing the NBL as where he wanted to continue his accomplished career.)
---
5. Adelaide 36ers (Last week: 8th)
This must feel so good for Joey Wright's boys.
After the public Twitter spat between Wright, Jerome Randle and Brisbane's Daniel Kickert, the 36ers came out and let their play do the talking. Adelaide's offensive show on Thursday night was magnificent, shooting 60 percent from the field.
It would be understandable if you chalked that win up to pure emotion. However, Adelaide's following win in Sydney was more impressive and offers greater optimism for this squad. Two bigs that played a major role in the Kings win, and need to get more credit for their work across the season, was Daniel Johnson and Majok Deng.
We all know of Johnson's terrific skillset, but with Adelaide's losing record and some injury issues, the West Australian native hasn't been on the radar. However, Johnson is averaging 15 points and 7.2 rebounds, as his smooth post game is still a handful for most other bigs around the league to defend.
Deng was an unknown for many coming out of Louisiana–Monroe, but he has made an impact on the defensive end. Deng's lateral quickness allows him to stay in front of guards and once he fills out his lanky frame, he should be the source of greater rebounding and inside play. The 23-year-old can also put up points in a hurry, evident by his 11 points in 11 and a half minutes against Sydney.
We need to see a larger sample size of winning basketball to place Adelaide any higher, but the signs are positive.
---
6. New Zealand Breakers (Last week: 3rd)
The Breakers are probably the unluckiest team in this week's rankings. Despite the loss to the Taipans, New Zealand still had chances to win the game in the final quarter, surviving poor shooting nights from Kirk Penny, Corey Webster and Thomas Abercrombie.
However, it would be unjust to the squads above them to have the Breakers any higher this week. Paul Henare's men weren't themselves against Cairns, turning the ball over 20 times and dishing out just 16 assists. Their offence was forcing shots in the half court, with the usual crisp offensive execution lacking.
They also couldn't stop Trice, who was tremendous. In fact, New Zealand's defence has been shaky all season; allowing 109.6 points per 100 possessions, equal-second last in the league. Their beautiful offence often overshadows the defensive shortcomings, but when the ball isn't going through the hoop, the Breakers' defensive issues are amplified.
It's unlikely the Breakers will be languishing this low in the rankings for long. They're too good and too well-coached to go on a losing streak. Plus, if New Zealand ever needs a win, this week serves as a perfect opportunity, facing a Melbourne squad they've already beaten twice this season, after a home date with Illawarra.
---
7. Perth Wildcats (Last week: 2nd)
Who would have thought the defending champions would ever rank second-last in power rankings. However, after they watched the Hawks run all over them in two quarters on Sunday, there is no justification to place Perth any higher.
The pressing issue to come out of this week's loss for the Wildcats is their lack of guard depth. With Damian Martin still on the sidelines, the 'Cats have struggled without Jarod Kenny or Casey Prather in the game. Dexter Kernich-Drew is coming back to earth a little after a red-hot offensive start, Corban Wroe's inexperience still shows and Mason Bragg, as electrifying as he is, can only provide so much. In fact, against Illawarra, those three back-up guards played a combined 15:05 minutes, while Prather and Kenny both logged 31+.
Unfortunately for Trevor Gleeson, there isn't much he can do while Martin is out. Kernich-Drew, Wroe and Bragg will give you energy in stints, but their production only goes so far. This means Kenny and Prather will be leaned upon even more in Martin's absence, so the 'Cats need to tread water while their captain is out.
On the bright side, Matty Knight's shoulder injury didn't seem to bother him, Jameel McKay's persistence on both ends remains admirable and after all the circumstances, the Wildcats still only went down by four points. It would have been wild to imagine Perth ever being seventh in the rankings, and it'll be even wilder to imagine they'll be here for long.
---
8. Brisbane Bullets (Last week: 4th)
Thursday night can't get here quicker for Brisbane.
After getting embarrassed by Adelaide, seemingly on the court and off it, the Bullets will be eager to wash the humble pie out of their mouths against Perth this week. To do so, we need to see better intent and more urgency from Andrej Lemanis' men.
As soon as it seemed Brisbane were solidifying their playoff credentials, they laid an egg against the Sixers that's too ugly to ignore. Maybe it'll go down as an outlier, as the 36ers were playing with extra motivation that they wouldn't normally have. Either way, it was a horrific defensive effort from the Bullets and it needs to be corrected.
Brisbane's rotations were slow, communication was lacking and they allowed Adelaide numerous looks around the basket in the second half, as the below short chart indicates.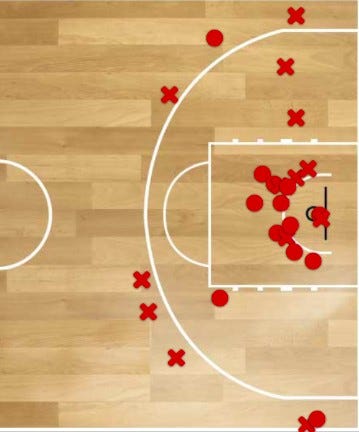 As outlined from the outset, there is no worst team in the league at the moment. After all, Brisbane is 6-5, but someone has to be eighth this week – and the Bullets definitely have errors that need ironing out.