Discover more from The Pick and Roll
We're all about Aussie hoops. Independent, objective analysis and commentary. Insightful narratives built around Australian basketball. Read about our men and women in the NBA, WNBA, NCAA, Europe, national teams, NBL, WNBL, NBL1, prospects and more.
Over 2,000 subscribers
2016/17 NBL Round 3 power rankings: The Kings are coming
The NBL is starting to sort itself out.
Granted we are only three weeks in, so it's still a relatively small sample size, but breaking the teams up into three tiers seems fair at this stage. Not to spoil the following rankings, but you have the top two teams who have seemed to separate themselves from the pack (for now), teams three-to-six have been hard to get a read on due to inconsistencies, while teams seven and eight are still searching for an identity.
So, which teams make up these tiers?
These power rankings are the opinion of one man. To discuss the rankings, hit Luke up on Twitter at @lukesicari.
---
1. Perth Wildcats (Last week: 1st)
Despite a week of change, the Wildcats hold steady atop of the rankings.
The shock release of import Jaron Johnson, to make room for D-League standout Andre Ingram, didn't disrupt Perth's flow or momentum at all. In fact, Ingram made an immediate impact, hitting a clutch three-pointer to secure Friday nights win over Illawarra. He fouled out two days later against Melbourne, but with Jarrod Kenny's groin injury and Damian Martin out, Ingram may be thrown into the starting line-up earlier than expected.
Matty Knight returned in a big way, Martin got hit in the jaw (what's new) and Casey Prather battled through cramps to deliver a game-high 16 points in a wild victory over United. They should enter this week's match against Illawarra with loads of confidence, even if Kenny and Martin don't suit up.
---
2. Sydney Kings (Last week: 6th)
The Kings' bandwagon is now taking passengers, and it would be wise to pre-book tickets, because it's filling up quickly.
This was a perfect week for Sydney, both on and off the court. Not only did they demolish both New Zealand and Illawarra (they were up by 29 points against the Hawks in the third term), but the Kings also secured the services of NBA journeymen, Steve Blake.
Blake's fit will be an interesting one. At 36-years-old, it's unlikely he gets a starting role; especially with the way Kevin Lisch and Jason Cadee are playing. However, adding a respected, 13-year NBA veteran is never a bad thing. He'll join former Los Angeles Laker teammate Josh Powell, who is looking more comfortable in the NBL with each passing game. Let's not forgot Julian Khazzouh has yet to debut this season, too.
While the Kings are easily taking care of business on the court, they seem to be having loads of fun off it as well, if Powell's Instagram videos are anything to go by.
https://www.instagram.com/p/BL8W1cLjhx8/
---
3. Adelaide 36ers (Last week: 5th)
Only one game for the Sixers this past week, as they comfortably slipped past Cairns.
Many wondered how Adelaide would respond after Mitch Creek's injury, but they have seemingly looked better without him. A main reason for this has been the play of Nathan Sobey, who has solidified himself as one of the league's most entertaining players. Watching Sobey sky for a slam-dunk is awe-inspiring, however, his combination of rebounding, playmaking and shot making makes him one of the more underrated guards in the competition.
Adelaide seems to be figuring themselves out. They have fully brought into Joey Wright's fast-tempo style of ball, as they lead the league in pace with a 97.9 rating. Jerome Randle is playing at an MVP-level, leading the NBL in scoring at 24 points a night.
It must be taken into account that the Sixers looked impressive against a struggling Taipans squad. However, based on the up and down form we have seen from them so far, any comfortable victory is a positive for the 36ers and it allows them to move up in the rankings.
---
4. Melbourne United (Last week: 2nd)
Intriguing week for United, as they still seem to be in the process of answering some pressing questions.
First, and most importantly, is the issue of Chris Goulding's health. He won't play this Thursday against Cairns and his recovery from an ankle issue is taking longer than expected. While he hasn't clicked on all cylinders yet this season, Goulding is vital to United's title hopes.
Without him, Ramone Moore got the starting nod against Perth. However, Moore played just under 22 minutes in the loss to the 'Cats, including missing the final seven minutes, a time where Melbourne needed the instant offence Moore can provide. Whether there was an injury complaint, or Dean Demopoulos was simply riding the solid work of Nate Tomlinson, it was no doubt surprising to see Moore benched when he was.
Melbourne's other import, Devin Williams, will be feeling the heat to perform, after managing less than nine minutes against Perth and seven minutes against Brisbane. United is still figuring out how to best use David Andersen, while the free throw woes are starting to prove costly.
Despite all this, Melbourne still knocked off Brisbane on Thursday night and had a chance to send the game into overtime at the buzzer against Perth, so it isn't all doom and gloom, and a massive drop in the rankings wouldn't be fair. At the moment, though, they haven't lived up to their preseason hype, and as Demopoulos said, his team is starting to taste the salt in the sea-level water.
---
5. Brisbane Bullets (Last week: 3rd)
Growing pains were expected from the Bullets, and after a brief honeymoon period, we are now seeing them.
The inconsistent form of Jermaine Beal and Torrey Craig was a concern coming into the year and it was on full display in round three. In the Thursday night loss against Melbourne, Beal shot 1-of-6, while Craig was 2-of-9. In the win over New Zealand, though, Craig went 6-of-9 from the floor, while Beal's struggles continued, going 3-of-9.
Some positives signs are showing for Brisbane, however, with youngster Matt Kenyon proving to be a defensive weapon, Daniel Kickert showing he is more than a three-point shooter and Cameron Bairstow's minute total slowly creeping up.
One area where Brisbane need to improve is stopping the opponent's momentum. They lost the game against Melbourne due to one bad second quarter, while they almost allowed the Breakers to steal victory from them due to a poor third quarter on Saturday night. When the flow is against them, Andrej Lemanis needs to rally his troops, something he is finding difficult at the moment.
With all these questions, it's hard to place the Bullets any higher than fifth.
---
6. Illawarra Hawks (Last week: 4th)
With each passing game, it's becoming more and more likely that Illawarra's record breaking round one offensive performance was an outlier.
After taking the Wildcats right down to the wire, the Hawks responded with a hapless showing against the Kings on the NBL's first Monday night showcase of the season. Falling behind by as many as 29 points in the third quarter, Illawarra couldn't get anything going. For a reflection of how inadequate the Hawks were in the third term, they were outscored 25-6, and the shot chart isn't pretty.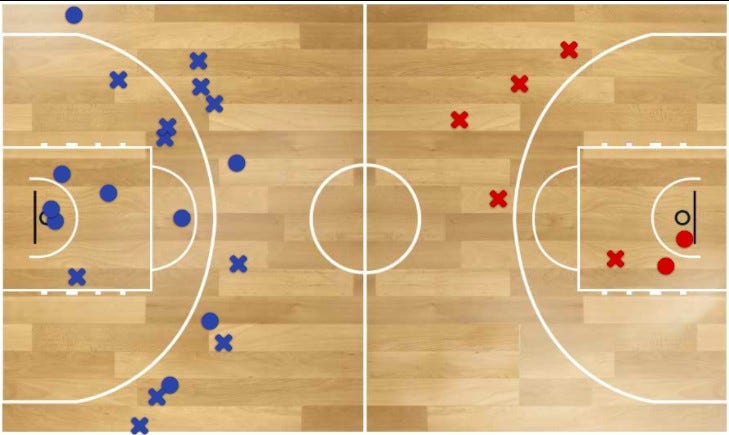 While the Hawks' offence was fair in the other three quarters, it doesn't matter when it falters as bad as it did for 10 minutes.
Illawarra's defence is also becoming a concern. The Hawks are third-last in defensive rating, allowing 109.9 points per 100 possessions, something Rob Beveridge needs to figure out. Until the Hawks start playing closer to the form we saw round one, they can't be ranked any higher.
---
7. New Zealand Breakers (Last week: 7th)
Paul Henare is struggling to put his fingerprints on this Breakers unit.
The Breakers suffered a pair of losses this week, and all of a sudden, they don't look like the intimidating team they have been for years. Travelling across the pond to New Zealand no longer has the same fear factor, nor does the Breakers' defence.
New Zealand has been slow on rotations, allowed easy drives to the basket and is leaving shooters open. A frustrating defensive season to date sees the Breakers rank second-last in defensive rating, as Henare's men are allowing 110.4 points per 100 possessions.
On the offensive end, things aren't much better. Corey Webster is in a major funk, averaging just 10 points and connecting on 36.4 percent of his field goals. Thomas Abercrombie is the leading scorer, but at just 13.8 points a night, it remains to be seen if that's enough to elevate the Breakers into playoff contention.
For now, they're a level below the teams above them.
---
8. Cairns Taipans (Last week: 8th)
Cairns' streak of honourable losses came to an end this week, as they showed little fight against Adelaide in a 16-point defeat.
The Taipans' offence has failed to show any signs of life to start the season. Against the 36ers, they shot 34 percent from the field and scored just 67 total points. In their three games played, Cairns is averaging 73 points, shooting 35.8 percent from the field and has an offensive rating of 95.6 – all numbers which rank last in the competition.
This isn't the fault of Cam Gliddon. While his shooting percentages are hovering in the high-30s, he is trying to pull the Taipans' offence to relevancy with very little help. Gliddon is averaging 15.7 points, the only Taipan scoring in double-digits.
Cairns' defence, their strength coming into the season, has also been poor to begin the campaign. There is still plenty of time for Aaron Fearne to turn things around – his team will still play hard and compete in most games. Based on current evidence, though, Cairns will be battling to get off the bottom of these rankings, and the NBL ladder.