Discover more from The Pick and Roll
We're all about Aussie hoops. Independent, objective analysis and commentary. Insightful narratives built around Australian basketball. Read about our men and women in the NBA, WNBA, NCAA, Europe, national teams, NBL, WNBL, NBL1, prospects and more.
Over 2,000 subscribers
2016/17 NBL Round 15 Power Rankings: Throwin' it back
The NBL should have heritage round every week.
This annual tradition brought us sweet throwback uniforms, honoured former teams and, best of all, gave us the gift of the greatest video to ever see the light of day.
https://twitter.com/NBL/status/819484569623666688
As entertaining and hilarious as that video is, the heritage jerseys were still the highlight of the round. Melbourne United went back to the South East Melbourne Magic days (will it be the Tigers, next year?); the New Zealand Breakers rocked a very 90ish skyline on the front of their uniform and Sydney's looked better than any of them.
How does it all impact this week's power rankings, though?
These power rankings are the opinion of one man. To discuss the rankings, hit Luke up on Twitter at @lukesicari.
---
1. Adelaide 36ers (Last week: 1st)
The story of the NBL season has been how close it is and how there isn't a clear-cut favourite. Adelaide, though, is changing the narrative. Embed from Getty Images
With each blowout victory, it's becoming clear that the 36ers are a level above the rest of the competition at the moment, in multiple aspects. Their offence is humming at a beautiful rate, scoring 113.4 points per 100 possessions, first in the league. The 36ers pick up the defensive intensity when they need to, while Joey Wright's men are playing with an unwavering confidence.
You can put an asterisk next to the 27-point win over United, as Melbourne was decimated by injury. However, Adelaide still outscored their foes 35-14 in the last quarter, a margin that can't be ignored. The comeback over the Wildcats, in Perth, was incredible.
As the season hits the final stretch, the 36ers have a strong lead. Catch them if you can.
---
2. Illawarra Hawks (Last week: 3rd)
Slowly, but surely, Illawarra has been waiting in the wings. Now, it seems, Rob Beveridge's men are making the leap. Embed from Getty Images
Friday night's victory over Brisbane wasn't the prettiest, but when they needed to elevate their game, the Hawks did. A 24-14 final term showed Beveridge's squad still has the offensive firepower to explode, while they can do just enough to get by defensively.
In fact, the Hawks are very similar to the team ranked above them. Illawarra is one of the only teams in the league that has the scoring expertise to match Adelaide, while we could argue the Hawks have more pure talent. We need to wait until January 28 to see these two teams square off, but we might be seeing more of it come finals time.
---
3. Melbourne United (Last week: 4th)
Chris Goulding's ankle is becoming an ongoing storyline. Embed from Getty Images
This time, Melbourne's sharpshooter landed awkwardly on his right ankle, not the left one that has hampered him this season. While he returned against Cairns, there was a noticeable limp, which makes this week's injury report vital for United.
While Casper Ware can take on a greater offensive responsibility while Goulding is out, it's no coincidence the Taipans made their run when the Boomer was out of the contest. Goulding is a +19.2 per 36 minutes this season, a representation of how much he means to this United team.
If Goulding is on the court, Melbourne is a championship contender. When he isn't, things are a lot harder for United. Sometimes, it's as simple as that.
---
4. New Zealand Breakers (Last week: 8th)
Has Kevin Dillard saved the Breakers' campaign?
Short answer – yes.
The electric 27-year-old has suddenly unlocked a scoring weapon for the Breakers, helping them withstand a slew of injuries to key personnel. Dillard's round 15 efforts were stunning.
First, he was a strong complementary piece next to Paul Carter during Friday's win over Sydney. Dillard added 19 points in that affair, as the Breakers were able to pull away from the Kings in the last quarter.
It was his play a couple of days later in Brisbane, though, that really showed Dillard could be the panacea New Zealand desperately needed. His game-winner was cold-blooded, but his contributions throughout the game were just as big. Dillard scored 28 points on just 20 shots, showcasing his offensive versatility.
All of a sudden, the Breakers are a threat. Again.
---
5. Perth Wildcats (Last week: 2nd)
After it seemed like they were hitting some form, the Wildcats stopped themselves in round 15.
They had Adelaide on the ropes early in Perth on Saturday night. If we have learnt something this season, it's that the 36ers often go into their shells when they find themselves down to begin a game. The 'Cats had them in this position, but failed to land the knockout blow, which led to them ultimately losing by 11-points.
On Monday night against Cairns, the Wildcats couldn't climb out of the hole they dug for themselves in the second half. The late fight back was admirable, but it was far too little too late.
This is where Perth is at this season. While their defence is still the best in the league, the inconsistent ways means we never know which Wildcat team will show up.
---
6. Cairns Taipans (Last week: 6th)
Finally, Cairns was able to grind out a victory when Travis Trice wasn't firing.
Trice has been the barometer of the Taipans' success this season. When the Ohio native is aggressive on the offensive end, it gives Cairns a scoring punch they often lack. However, when he is failing to hit his shots, it's usually an indication the team is suffering the same struggles.
Monday night against Perth, though, Trice scored just nine points and shot 4-of-8 from the field. Instead, it was Cairns' B-team, headed by Stephen Weigh (19 points) and Jarrad Weeks (16 points), which made the difference.
However, against Melbourne, the Taipans showed the other side of when Trice isn't scoring. While he finished with 14 points, Trice was quiet for most of the game and was comprehensively outplayed by Ware. Cairns couldn't find another strong scoring option, as Mark Worthington (15) and Weigh's (13) contributions weren't enough to keep them afloat.
In a league where new imports are coming in every week, Cairns' talent-thin roster is being left behind.
---
7. Brisbane Bullets (Last week: 7th)
Brisbane is finding new ways to lose.
Twice this past weekend, Andrej Lemanis' men were in winning positions. Against Illawarra, they held a 13-point lead with 3:08 remaining in the third quarter, while Brisbane was up for the entire game against New Zealand. No, seriously – look at the game worm.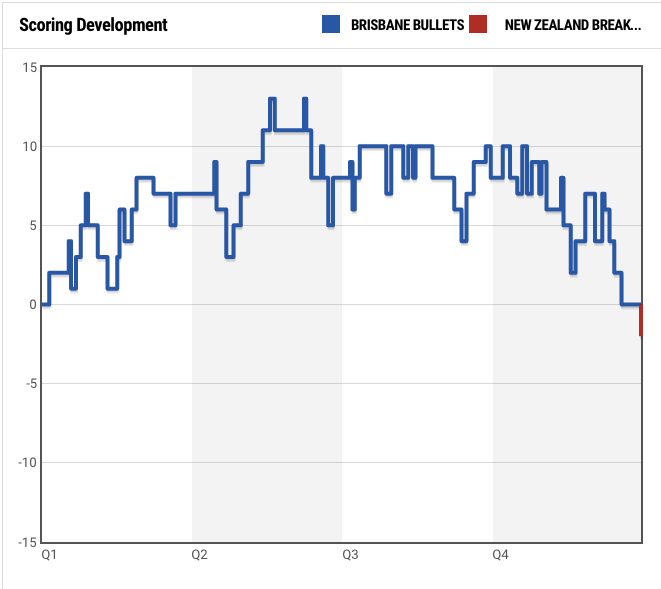 It's almost shocking that a team coached by Lemanis struggles this much. To compound the issues, Adam Gibson's season looks done and Jermaine Beal doesn't seem interested in ending his inconsistent play.
We have seen glimpses of what Brisbane can do, but until they start getting some wins, we won't be seeing them in the playoffs.
---
8. Sydney Kings (Last week: 5th)
Who would have thought?
After looking like world-beaters to start the season, Sydney has lost six of their past seven, and are in real danger of missing the playoffs. Again, who would have thought?
Trying to figure out why Sydney has fallen off a cliff is tough. Is it because Kevin Lisch looks exhausted? Have teams figured out Andrew Gaze's system? Is the defence not having the same impact as it did earlier in the season?
So many questions for the Kings, who suddenly, don't have a lot of answers. And with the playoffs getting closer and closer, Gaze needs to find that magic formula that worked so well just months ago.