Discover more from The Pick and Roll
We're all about Aussie hoops. Independent, objective analysis and commentary. Insightful narratives built around Australian basketball. Read about our men and women in the NBA, WNBA, NCAA, Europe, national teams, NBL, WNBL, NBL1, prospects and more.
Over 2,000 subscribers
2015 Australian U20's Nationals Day 2 Recap - NSW Women back on track, Tasmanian Men a frontrunner
Day 2 of the U20's Australian Junior Championships is in the books and what a day it's been. The NSW women's squad looks to be back in form after their big loss to Victoria in Day 1, while the Tasmanian men's squad is looking like a team that can compete for the championship. Here's how Day 2 played out.
Photo credit: Basketball Australia/Kangaroo Photos
Men
Tasmania 92, ACT 59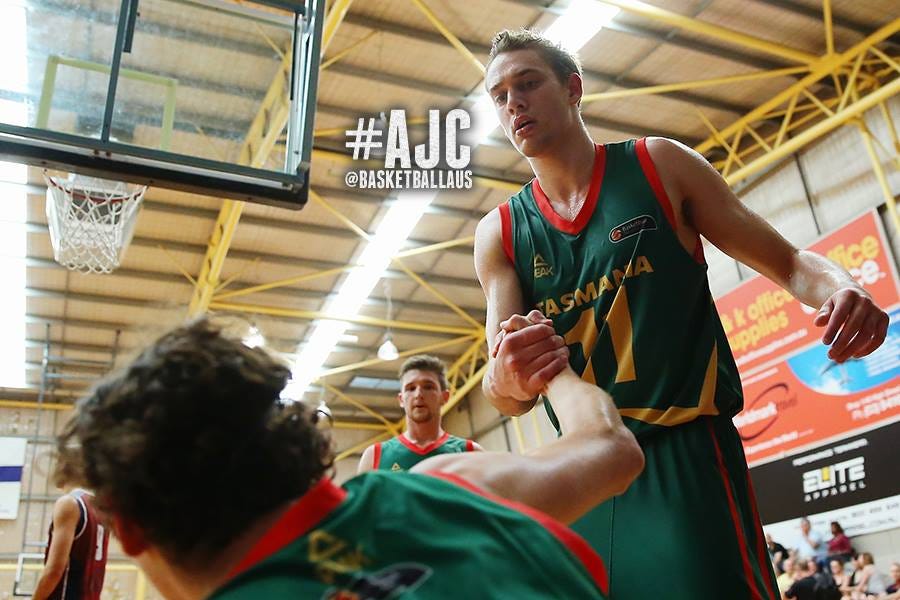 Kyle Clark | Photo credit: Basketball Australia/Kangaroo Photos
The Tasmanian men's squad is showing that they're the real deal, completing their 2nd blowout win in as many days. Last year, despite having a number of Australian representative players, they seemed to struggle - but this year has proved to be different. St Mary's signees Tanner Krebs and Kyle Clark have led the way for Tasmania, who now seem like the biggest threat to take down Victoria. ACT's Bul Kuol put forth a strong effort but it wasn't enough as the depth of Tasmania saw them run away with this one.
Key Performers:
TAS: Kyle Clark (15 pts, 7/13 FG), Joe Chilcott (14 pts, 5/8 FG), Tevita Finau (15 pts, 4 rbs)
ACT: Bul Kuol (19 pts, 8/17 FG, 9 rbs), Evan Fowler (17 pts, 6 rbs)
NSW 94, South Australia 59
NSW is another team that has performed extremely well so far in this tournament. They have a variety of offensive weapons, with Nicolas Pozoglou stepping up in this fixture. Pozoglou, who is a Sydney Kings development player, used his elite athleticism to get to the rim and finish with contact - while also showing a nice touch from the perimeter. The consistent play for Jordan Hunter and Matthew Bateup was also on show, and something that will be extremely important moving forward. SA's Sam White, who had a big game in Day 1's action, was shut out of this one - finishing the game scoreless.
Key Performers:
NSW: Nicolas Pozoglou (24 pts, 9/16 FG), Jordan Hunter (15 pts, 6/7 FG, 8 rbs)
SA: Kane De Wit (14 pts, 4 rbs)
Western Australia 51, Victoria 60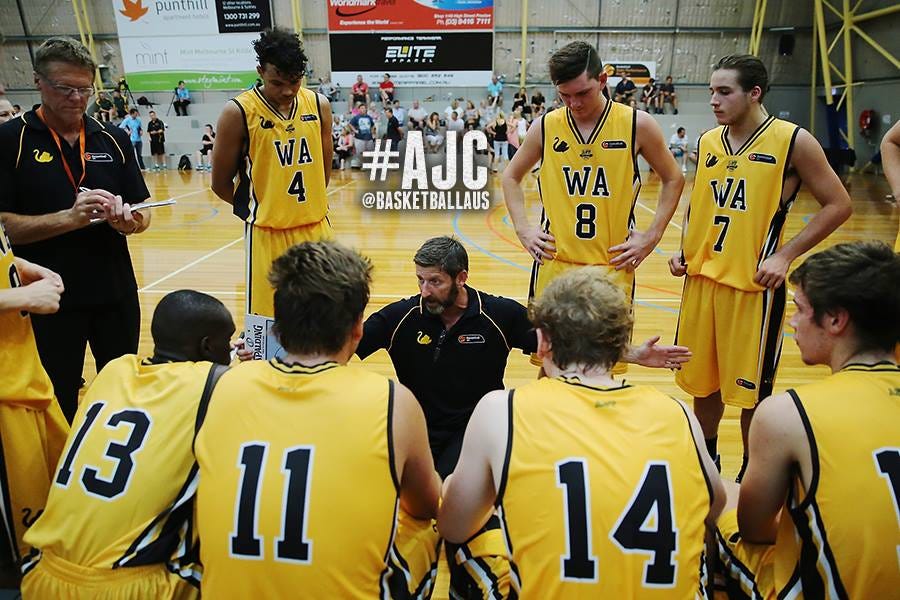 Western Australia | Photo credit: Basketball Australia/Kangaroo Photos
In what turned out to be a closer game than many would have expected, Victoria managed to grind out the win over Western Australia. As always, Victoria came out of the gates strong - heading into the main break with a 41-20 lead. Both teams struggled from the field, with the persistent Western Australia squad holding Victoria to just 5 3rd quarter points. The Victoria lead was cut to 5 points late in the 4th quarter but back-to-back and-1's from Tom Wilson and Jack White, respectively, saw Victoria ultimately come away with the close win. A key for Victoria was limiting Western Australia's Rhys Vague - keeping him out of the paint and making him settle for contested perimeter jump-shots.
Key Performers:
WA: Ashley Litterick (11 pts, 5 rbs), Rhys Vague ( 10 pts, 4 rbs)
VIC: Dejan Vasiljevic (11 pts, 3 rbs), Tom Wilson (10 pts, 8 rbs), Matthew McCarthy (8 pts, 14 rbs)
ACT 85, Queensland 82
Jack McVeigh played all 40 minutes of this one but it wasn't enough as Queensland was upset by a tough ACT squad. Despite foul trouble, ACT's Bul Kuol managed 26 points and 7 rebounds in just 26 minutes of play - doing the majority of his work in the paint. McVeigh, who would be considered by many as the most talented player in the tournament, has struggled from the perimeter all tournament - with his Queensland squad now sitting in last place (0-3). Jarrod Hampton had another solid effort as the ACT picked up their first win of the tournament.
Key Performers:
ACT: Bul Kuol (26 pts, 8/12 FG, 10/13 FT, 7 rbs), Jarrod Hampton (21 pts, 5 asts)
QLD: Jack McVeigh (22 pts, 6 rbs), Dylan Howe (14 pts, 7/8 FG)
---
Women
Western Australia 51, NSW 52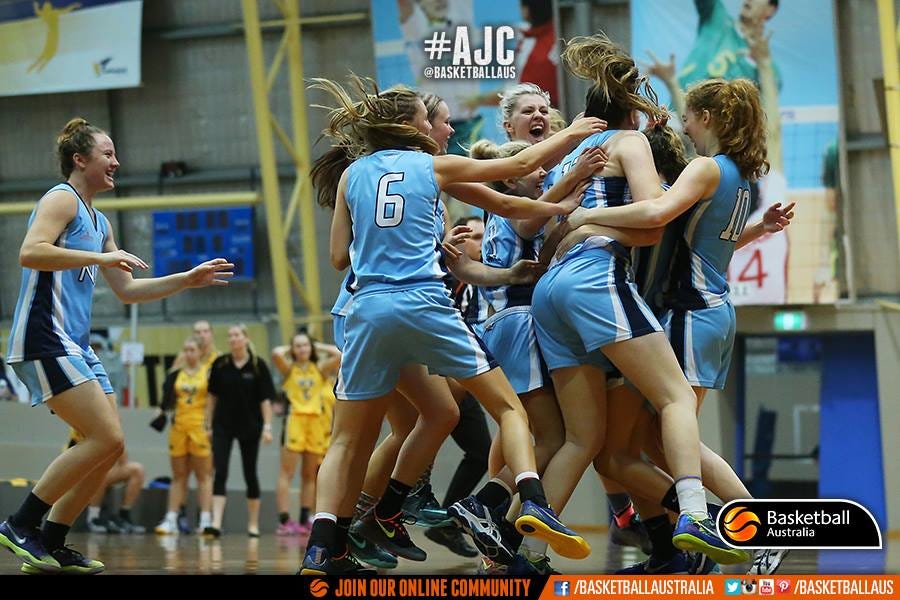 NSW after Annobel Starr's gamewinner | Photo credit: Basketball Australia/Kangaroo Photos
This game proved to be a thriller as Annobel Starr would hit the go-ahead bucket to seal the 52-51 win for NSW. With Dani Milisic in foul trouble once again, WA's Megan McKay was able to control the boards - while WA also managed to get easy baskets in the paint. The game seemed over with 1 minute left in the 4th quarter - WA up 51-47 with possession - but Riley Evans hit a huge 3-pointer to cut the lead to 1, paving the way for Starr's clutch bucket at the rim in the final seconds.
Key Perfomers:
WA: Madeleine Dennis (16 pts, 7 rbs), Ashlee Sidebottom (16 pts, 6 rbs)
NSW: Kate Hewett (12 pts, 4 rbs), Riley Evans (11 pts, 3/6 3pt)
ACT 51, Queensland 78
The Queensland women's squad continues to be the polar opposite of their male counterparts. The women's squad has won both of their games while the Queensland men's squad has lost all 3 of their games. Their success can be attributed to the solid guard play of Meg Essex and Courtney Woods, with Woods particularly being extremely aggressive on the offensive end. ACT once again got another great performance from Molly McPhee but it wasn't enough as Queensland proved to be too deep.
Key Performers:
ACT: Molly McPhee (15 pts, 10 rbs)
QLD: Courtney Woods (26 pts, 10 rbs, 4 asts), Meg Essex (16 pts, 6 rbs)
NSW 74, Tasmania 59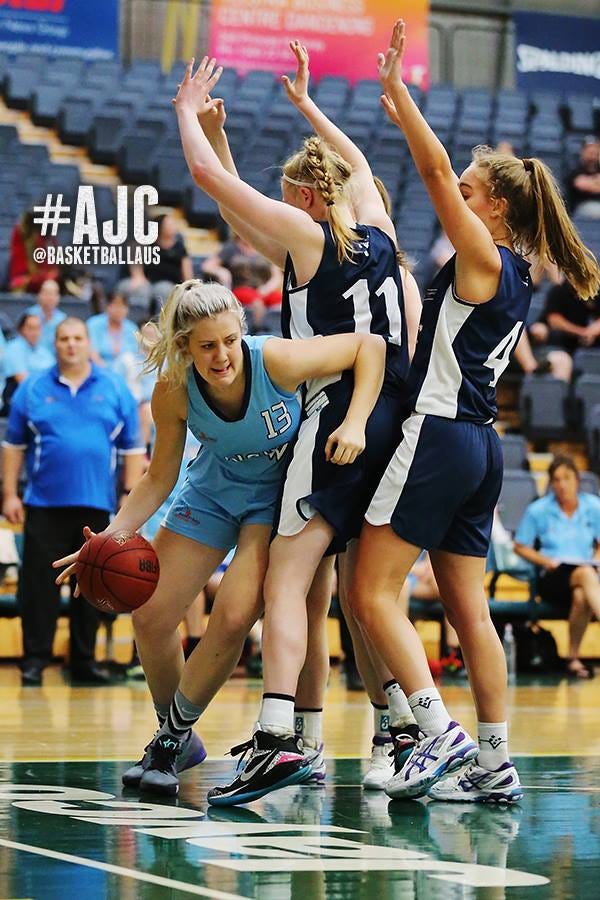 Dani Milisic | Photo credit: Basketball Australia/Kangaroo Photos
NSW was coming off a close win over Western Australia so they entered the 2nd leg of their double-header looking for a convincing win. Not only did they get the convincing win they were looking for, they also got a big game out of Dani Milisic. Milisic, who had been hampered by foul trouble in her first 2 games of the tournament, put forward an impressive 23 point, 8 rebound effort. NSW managed to dominate the paint on both ends of the floor and came away with an important win, especially with their next game against an undefeated Queensland squad.
Key Performers:
NSW: Dani Milisic (23 pts, 8 rbs), Sara Anastasieska (18 pts, 9 rbs, 7 asts, 5 stls)
TAS: Moriah Payne (19 pts, 4 rbs, 5 asts)
South Australia 76, Victoria 104
Victoria once again showed their dominance in the women's division by completing another blowout win - this time against South Australia. Alanna Smith was again a dominant force and is on track to be named the MVP of the tournament. Despite impressive performances from Demi Skinner and Taylor Ortlepp, SA wasn't able to take care of the ball, and Victoria took advantage by pushing the ball up the floor quickly for easy baskets. Victoria has emerged as the clear favourite to win the championship, and will likely pick up another easy win in Day 3's matchup against ACT.
Key Performers:
SA: Demi Skinner (27 pts, 10 rbs), Taylor Ortlepp (17 pts, 6 rbs)
VIC: Alanna Smith (25 pts, 6 rbs), Alex Sharp (16 pts, 10 rbs)