Discover more from The Pick and Roll
We're all about Aussie hoops. Independent, objective analysis and commentary. Insightful narratives built around Australian basketball. Read about our men and women in the NBA, WNBA, NCAA, Europe, national teams, NBL, WNBL, NBL1, prospects and more.
Over 2,000 subscribers
2015 Australian U20's Nationals Day 1 Recap - VIC remain dominant, QLD Men start 0-2
The 2015 U20's Australian Junior Championships are underway in Dandenong, Victoria, with some surprising results right off the bat. The Queensland Men's squad, who were considered one of the stronger teams in the tournament, suffered 2 tough losses in the opening day while their female counterparts opened the day with a statement victory.
Photo credit: Basketball Australia/Kangaroo Photos
Men
Queensland 85, Tasmania 95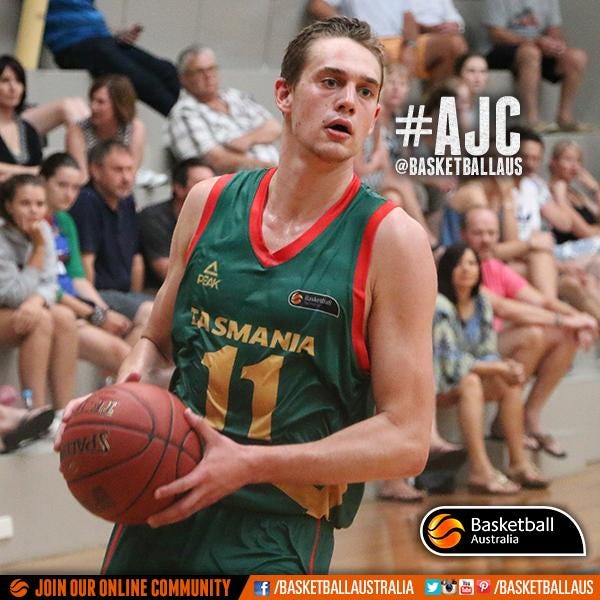 Kyle Clark | Photo credit: Basketball Australia/Kangaroo Photos
Queensland was dubbed as one of the stronger teams heading into Day 1 but it was Tasmania who came out victorious in this one. Queensland's Jack McVeigh, who recently committed to Nebraska, struggled to find his spots - shooting just 6/15 from the field. Queensland opted for a lot of isolation while Tasmania did a great job moving the ball, led by Australian representative players - and St Mary's signees - Tanner Krebs and Kyle Clark. Tasmania will face ACT in the morning of Day 2's action while Queensland will face the ACT later that night.
Key Performers:
QLD: Joseph Owens (20 pts, 10/10 FG, 5 rbs), Jack McVeigh (15 pts, 6/15 FG, 11 rbs)
TAS: Tanner Krebs (25 pts, 5 rbs), Lachlan Barker (22 pts, 8/15 FG, 4 rbs), Kyle Clark (18 pts, 5 rbs, 3 asts)
ACT 50, NSW 91
NSW's height and length was always going to be a problem for ACT, and it showed. St Mary's signee Jordan Hunter wasn't dominant in the paint from the get-go, finishing with consistency around the rim. NSW showed that they have a team that can go far - their size in the frontcourt, along with the veteran guard play of Jayden Hodgson, Jaden Weldon and Sukhman Bhinder is a great combination. NSW will face a tough South Australia squad in Day 2's action while ACT takes on Queensland.
Key Performers:
ACT: Jarrod Hampton (17 pts, 5 rbs), Bul Kuol (11 pts, 4 rbs)
NSW: Jordan Hunter (16 pts, 9 rbs), Jayden Hodgson (12 pts, 5 asts)
SA 72, WA 67
In one of the more exciting games of the day, South Australia managed to edge out Western Australia in what was a close game throughout. Western Australia's Rhys Vague was dominant in the paint on both ends of the floor but WA wasn't able to control South Australia's guard play - led by Samuel White. White is coming off an impressive Australian Schools Championships performance and continued his great form heading into this tournament - posting 19 pts (5/6 FG, 3/4 3pt) and 6 rbs. SA will be challenged in Day 2's action against a tough NSW squad while WA face a challenge of their own against Victoria.
Key Performers:
SA: Samuel White (19 pts, 5 rbs), Brandon Gleaves (15 pts, 4 rbs)
WA: Rhys Vague (23 pts, 9 rbs), Ashley Litterick (10 pts, 5/8 FG, 9 rbs)
Victoria 68, Queensland 59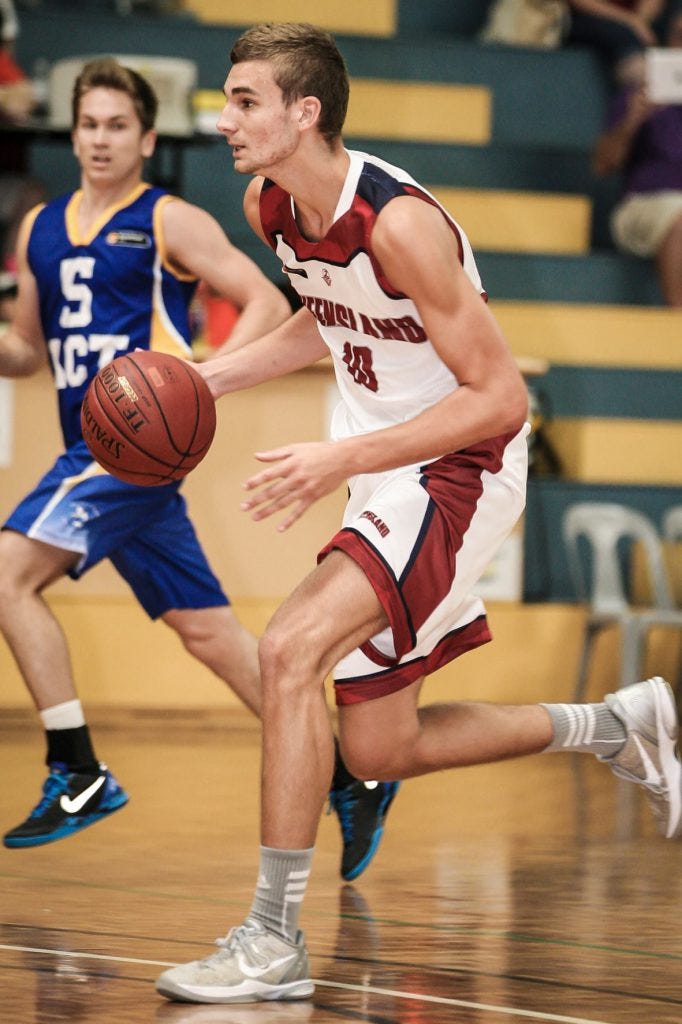 Credit: Kangaroo Photos
Victoria's first game of the tournament also proved to be a rematch of last year's Championship game, with VIC getting the win once again. Victoria have an unprecedented 8 Australian representative players on their squad and it showed with their composure on both ends of the floor. Dejan Vasiljevic, who's recently returned from the NBA Basketball Without Border camp in New York City, was the high-man for Victoria - posting 21 pts and 5 rbs. His shot selection still remains dubious but there's no question he's one of the more capable scorers in this tournament. On another note, it's great to see 7'1 Jock Perry on the floor again after a tough stretch of injuries.
Key Performers:
VIC: Dejan Vasiljevic (21 pts, 5 rbs), Tom Wilson (10 pts, 4 rbs)
QLD: Jack McVeigh (22 pts, 11 rbs), Joseph Owens (11 pts, 12 rbs)
---
Women
SA 70, WA 78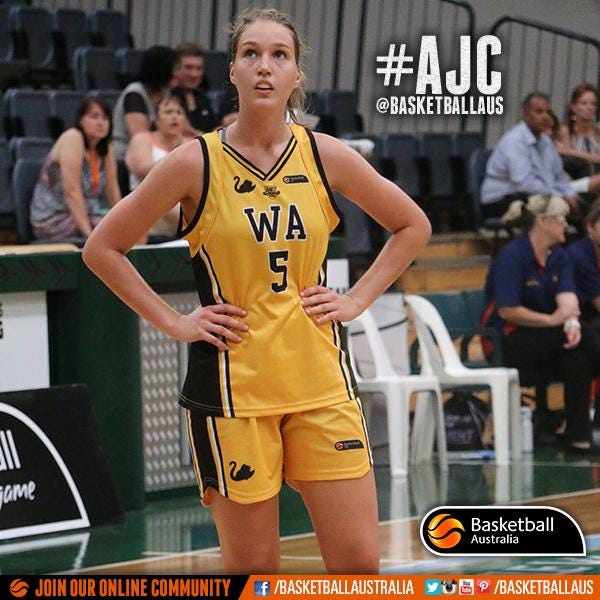 Madeleine Dennis | Photo credit: Basketball Australia/Kangaroo Photos
In South Australia's 1st of 2 games in Day 1, they suffered a tough loss to Western Australia. Mikayla Pirini did an impressive job controlling the pace of the game and was instrumental in WA's victory. SA's Taylor Ortlepp, the Australian U17 Sapphire who's known for her outside shooting, did her damage inside today but it wasn't enough as it was WA's depth that got them over the edge. Ashlee Sidebottom (14 pts, 5/7 FG) and Ashleigh Grant (7 pts, 5 rbs) were key for WA off the bench, something that they'll need if they're to compete in this tournament. WA will look to continue their great play in Day 2 when they face NSW, who's looking to come back from a tough loss.
Key Performers:
SA: Taylor Ortlepp (20 pts, 4 rbs, 7 asts), Portia Joyce-Tubb (14 pts, 12 rbs)
WA: Mikayla Pirini (14 pts, 7 asts), Megan McKay (12 pts, 6/8 FG, 8 rbs)
Queensland 100, Tasmania 46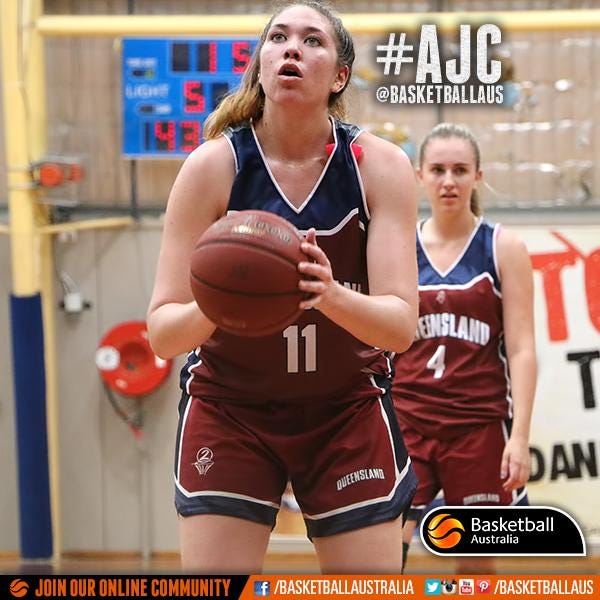 Bride Kennedy-Hopoate | Photo credit: Basketball Australia/Kangaroo Photos
While the Queensland men's squad has struggled to open the tournament, the Queensland women's squad has opened up with a statement victory of Tasmania. Bride Kennedy-Hopoate was key for Queensland, dominating the paint on both ends of the floor. Courtney Woods, who signed with Northern Illinois in November, was extremely effective off the bench, and will arguably be Queensland's most important player moving forward. Queensland will get a chance to continue their great form in Day 2 when they face an ACT squad coming off a big loss, while Tasmania will face a strong NSW squad.
Key Performers:
QLD: Bride Kennedy (22 pts, 10/14 FG, 8 rbs), Courtney Woods (17 pts, 8/12 FG, 11 rbs)
TAS: Mariah Payne (12 pts, 6 rbs)
Victoria 105, NSW 79
In our preview of this tournament, we picked Victoria as the favourites to win the Championship and they put on a great performance to open their campaign. Led by Stanford signee Alanna Smith, Victoria used big runs in the 2nd and 3rd quarter to run away from a talented NSW squad. Alex Sharp returned from a shoulder injury to put in 7 points and 10 rebounds while Georgia Pineau continued her solid form from the FIBA U17 World Championships last year. NSW had trouble controlling the Victorian bigs with Dani Milisic in foul trouble throughout the game. They'll need her to stay on the floor if they're to compete against all of the talented bigs in this tournament.
Key Performers:
VIC: Alanna Smith (30 pts, 11/16 FG, 10 rbs), Georgia Pineau (16 pts, 4 rbs), Alex Sharp (7 pts, 10 rbs)
NSW: Riley Evans (19 pts,), Jasmine Forcadilla (16 pts)
ACT 44, SA 72
South Australia came into this one having already lost in their morning fixture, so they came out firing - putting together impressive 1st and 3rd quarters to complete their first win of the tournament. Portia Joyce-Tubb had another great performance while SA managed to get a productive performance out of Demi Skinner, who struggled in their first game of the day. For ACT, outside of Molly McPhee, who was extremely impressive in last year's U18 Australian Junior Championship, they don't have a consistent offensive threat. They'll face a strong Queensland squad in Day 2's action, while SA will have a challenge as they go up against Victoria.
Key Performers:
ACT: Molly McPhee (17 pts, 11 rbs)
SA: Demi Skinner (14 pts, 9 rbs), Portia Joyce-Tubb (14 pts, 12 rbs, 3 stls)