Discover more from The Pick and Roll
We're all about Aussie hoops. Independent, objective analysis and commentary. Insightful narratives built around Australian basketball. Read about our men and women in the NBA, WNBA, NCAA, Europe, national teams, NBL, WNBL, NBL1, prospects and more.
Over 2,000 subscribers
2015 Australian U18's Nationals Day 2 Recap - Both SA Women's teams looking strong
After Day 2 of the U18's Australian Junior Championships we still have a few undefeated teams left and, at this point of the tournament, it's becoming a lot clearer as to who the favourites are.
Photo Credit: Basketball Australia/Kangaroo Photos
---
Men
Featured Matches
Queensland North 92, Tasmania 60
Queensland North continues to show why they're the early favourites to win this year's Championship, with a convincing win over Tasmania. Harry Froling was again instrumental in the win, doing the majority of his work inside the paint. Not only did Tasmania struggle with the size differential, but their guards were also outmatched. William McDowell-White put forward another impressive performance, playing to his strengths by getting in the paint and finishing strong at the rim. Tasmania's Emmitt Smith, who had a great performance in Day 1's action, struggled from the field as his squad failed to find any sort of rhythm.
Key Performers:
QLD North: William McDowell-White (20 pts, 7 rbs, 4 asts), Harry Froling (18 pts, 18 rbs)
Tasmania: Brady Armstrong (18 pts, 7 rbs), Bailey Boag (14 pts, 2/2 3pt)
WA Metro 68, Queensland South 73
WA Metro put up a good fight but Queensland South managed to step up defensively to come away with the much needed victory. Verle Williams continues to be a joy to watch for Queensland South, using his deceptive size to slash through opposing defences. WA Metro big-man Andrew Ferguson, whose upside is tremendous, had a great performance. Ferguson had WA Metro within 1-point late in the 4th quarter but some timely buckets for QLD South, as well as some smothering defence, sealed the win. QLD South's Harrison Isaac was an important factor off the bench, making some big plays in the 4th quarter of this matchup.
Key Performers:
WA Metro: Andrew Ferguson (14 pts, 11 rbs), Mitchell McKenna (13 pts, 5 rbs)
Queensland South: Verle Williams (18 pts, 4 rbs), Tom Fullarton (15 pts, 9 rbs, 3 asts)
WA Country 46, SA Metro 98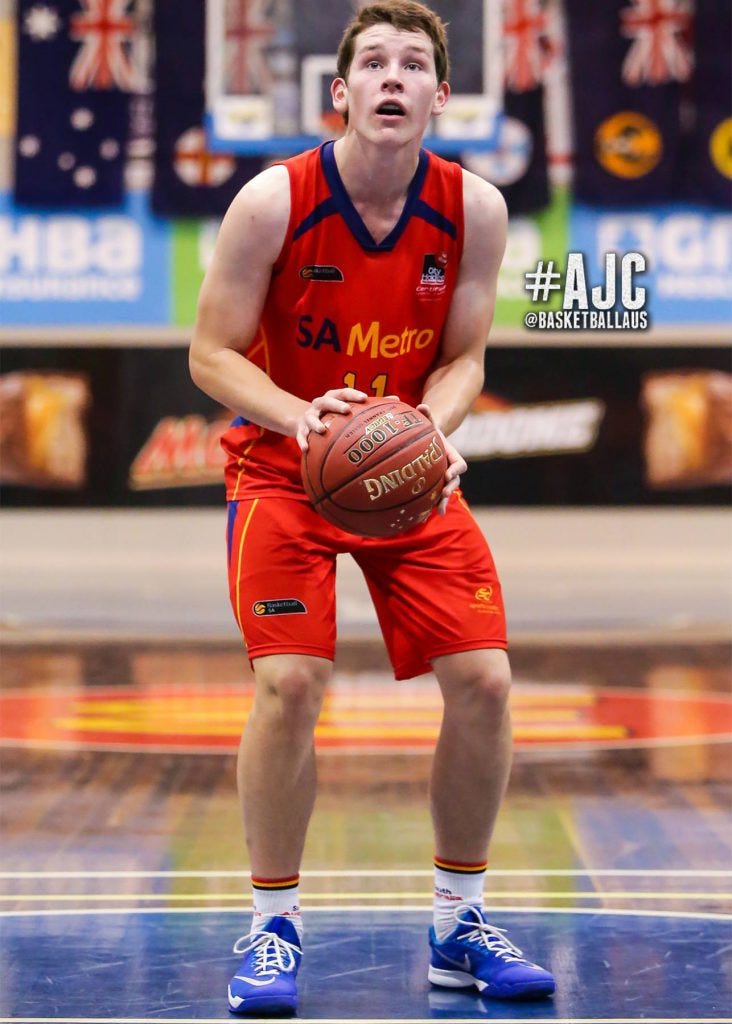 Photo Credit: Basketball Australia/Kangaroo Photos
SA Metro improved their record to 2-0 after a blowout victory over WA Country. Despite having no 'star' player, SA Metro's balanced squad has seen them open this tournament with two impressive performances. Jacob Rigoni was extremely efficient in this game in limited minutes while Isaac White, who averaged 27.7 ppg and 3.14 apg in last year's Australian Schools Championships, was effective off the bench. WA Country's Taj Fleming did an admirable job for his squad, patrolling the paint on both ends of the floor, but the depth of SA Metro proved to be too much. SA Metro will face their first real test of the tournament in Day 3's action, facing a tough NSW Country side.
Key Performers:
WA Country: Travis Durnin (12 pts, 9 rbs), Taj Fleming (10 pts, 5 rbs)
SA Metro: Jacob Rigoni (14 pts, 5 rbs), Isaac White (24 pts, 4/8 3pt)
Other Results
VIC Metro 81, SA Country 68
Key Performers:
VIC Metro: Andreas Panayiotou (20 pts, 7 rbs), Mate Colina (14 pts, 12 rbs)
SA Country: Brad Rathjen (38 pts, 4 rbs), Harrison Mills (12 pts, 10 rbs)
VIC Country 106, Northern Territory 32
Key Performers:
VIC Country: Oliver Bidmade (20 pts, 7 rbs), Thomas Pupavac (16 pts, 6 rbs)
Northern Territory: Matteo Rowse (16 pts, 5 rbs)
NSW Metro 79, ACT 52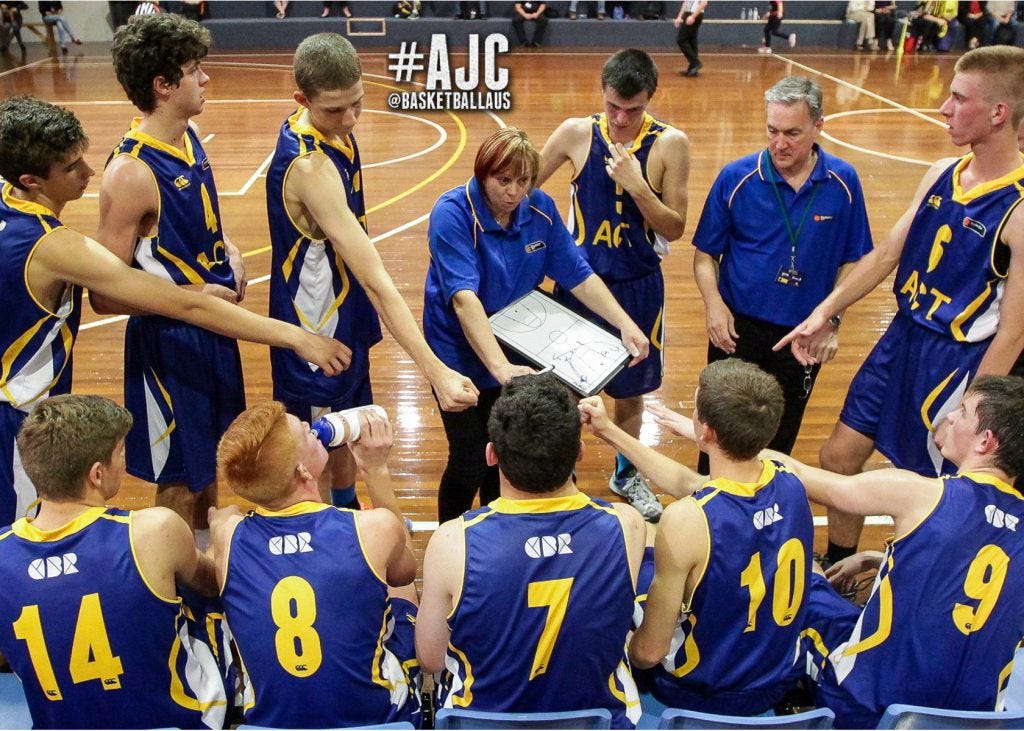 Photo Credit: Basketball Australia/Kangaroo Photos
Key Performers:
NSW Metro: Brennan Rymer (17 pts, 5 rbs), Louis Stenmark (16 pts, 3 asts)
ACT: James Toohey (17 pts, 9 rbs), William Cooper (13 pts, 5/10 FG)
Tasmania 63, NSW Country 99
Key Performers:
Tasmania: Harry O'Neill (18 pts, 5/9 FG), Luke Tucker (11 pts, 3 rbs)
NSW Country: Myles Cherry (26 pts, 11/19 FG, 9 rbs), Matthew Kenyon (20 pts, 7 rbs)
---
Women
Featured Matches
SA Metro 94, Northern Territory
40
In what was a great team performance, SA Metro defeated Northern Territory to remain undefeated thus far in the tournament. SA Metro began the game playing relentless defence while looking to attack the paint whenever possible. Bianca Thacker showed a great touch around the rim for SA Metro while Hannah Lehman scored the ball extremely well off the bench. Despite shooting just 23% from the field, Northern Territory's Abby Cubillo looked very comfortable on the ball and seemingly has a great feel for the game. In what is historically a very weak state when it comes to these National Championships, there is a sign of hope for the future of the Northern Territory.
Key Performers:
SA Metro: Bianca Thacker (16 pts, 11 rbs), Hannah Lehmann (15 pts, 6 rbs)
Northern Territory: Abby Cubillo (13 pts, 6 rbs, 4 asts)
WA Country 54, Queensland South 64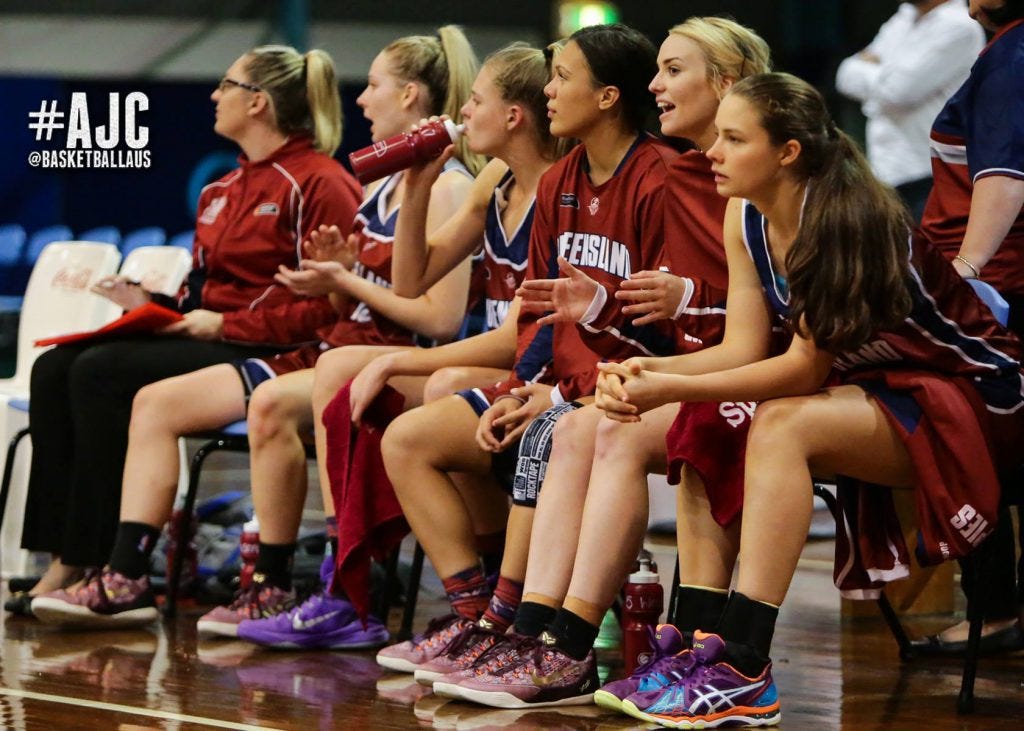 Photo Credit: Basketball Australia/Kangaroo Photos
The most intriguing aspect entering this game was the potential matchup between Mackenzie Hoycard and Zitina Aokuso, and it didn't disappoint. It was Aokusa, however, who got the best of Hoycard in this matchup - showing her dominance on the low block. Both teams were determined to feed the ball down low but it was QLD South's centre that took advantage. Aokusa is now leading the tournament in rebounds as her squad is 2-1 so far this week. They face a tough challenge in Day 3's action as they face an undefeated SA Country squad.
Key Performers:
WA Country: Raya Thompson (13 pts, 3 rbs), Tayla East (12 pts, 4 rbs, 3 asts)
Queensland South: Zitina Aokuso (24 pts, 23 rbs, 3 blks)
ACT 61, SA Country 72
SA Country used an impressive first half performance to gold off a tough ACT squad as they remain undefeated in the tournament. SA Country is the only women's team with a 3-0 record and that's in large part due to the consistent play of Chelsea Brook and Sarah Elsworthy. Despite being one of the shortest players every time she steps on the floor, Elsworthy has exhibited an impressive ability to score the ball. Combined with the Brook's inside game and SA Country looks like a team that can continue to go far in this tournament.
Key Performers:
ACT: Annabelle Lindsay (17 pts, 11 rbs), Callie Bourne (15 pts, 5 rbs, 5 asts)
SA Country: Sarah Elsworthy (17 pts, 5 rbs), Chelsea Brook (13 pts, 11 rbs)
Other Results
Tasmania 101, WA Country 91
Key Performers:
Tasmania: Taylor Mole (24 pts, 4 rbs, 3 asts), Rebecca Abel (24 pts, 5 asts)
WA Country: Mackenzie Hoycard (22 pts, 16 rbs), Cassady Anderson (10 pts, 11 rbs)
WA Metro 61, NSW Country 80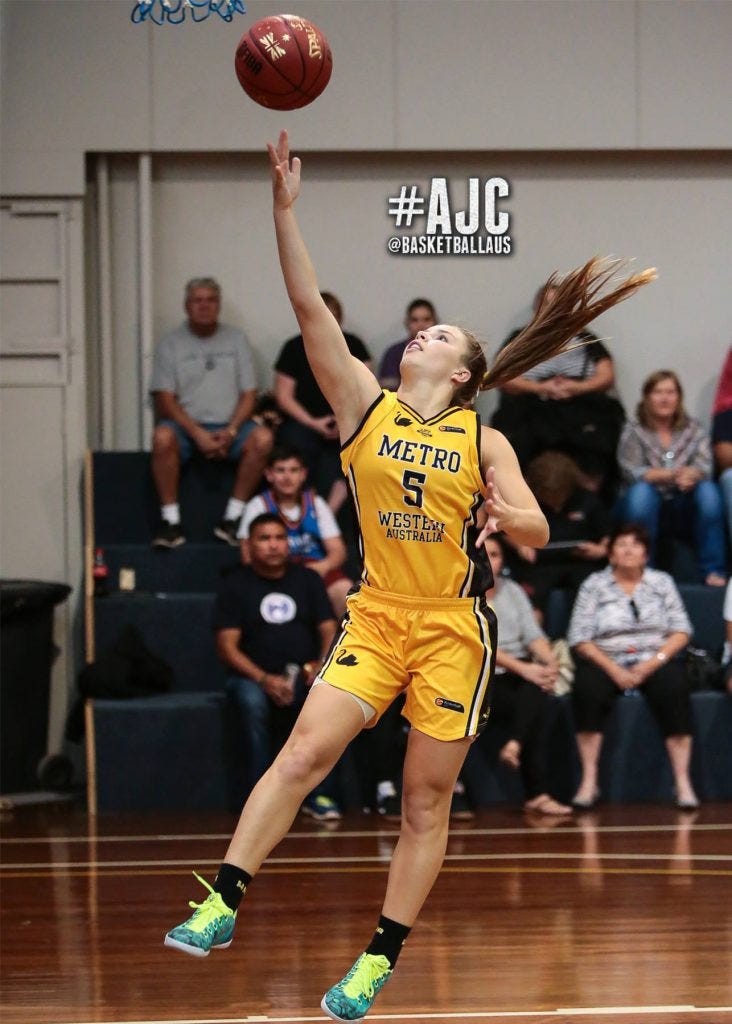 Photo Credit: Basketball Australia/Kangaroo Photos
Key Performers:
WA Metro: Chelsea Belcher (15 pts, 5 rbs), Amy Atwell (15 pts)
NSW Country: Abbey George (20 pts, 18 rbs, 3 asts), Charlie Evans (19 pts, 10/12 FT)
VIC Country 88, Queensland North 69
Key Performers:
VIC Country: Chloe Bibby (21 pts, 15 rbs, 3 blks), Chantel Horvat (18 pts, 11 rbs, 4 asts)
Queensland North: Briana Bailey (18 pts, 2 rbs), Elle Hutchinson (16 pts, 3 rbs, 8/8 FT)
VIC Metro 79, NSW Metro 53
Key Performers:
VIC Metro: Najvada George (16 pts, 7 rbs, 3 asts), Anneli Maley (15 pts, 12 rbs)
NSW Metro: Elizajane Loader (18 pts, 2 rbs), Alexandra Gorman (7 pts, 1 rb)
SA Country 83, Tasmania 50
Key Performers:
SA Country: Sarah Elsworthy (14 pts, 5 rbs, 6 asts), Chelsea Brook (12 pts, 13 rbs)
Tasmania: Ellie Collins (11 pts, 8 rbs), Taylor Mole (9 pts, 8 rbs)
---