Discover more from The Pick and Roll
We're all about Aussie hoops. Independent, objective analysis and commentary. Insightful narratives built around Australian basketball. Read about our men and women in the NBA, WNBA, NCAA, Europe, national teams, NBL, WNBL, NBL1, prospects and more.
Over 2,000 subscribers
Four For Fighting: The 2015 NBL Playoff Race
The heat is on, and four teams are looking to stay in the kitchen. While three clubs have all but cemented their spot in this year's NBL playoffs, the fourth and final spot in the post-season is now well and truly up for grabs, after Melbourne United let their commanding lead slip away against a determined Adelaide 36ers outfit on the weekend.
This leaves our four teams still in the hunt for a playoff berth: Melbourne United, Adelaide 36ers, Sydney Kings and Townsville Crocodiles.
Here's a rundown of how every team looks going into the final chapter of the regular season, plus a handy little prediction at the end!
---
Melbourne United (Currently: 4th)
Record: 10-9
Games Remaining: 9
Melbourne unexpectedly let their three-game lead slip away, which only served to add pressure on themselves. If United were able to be victorious over the 36ers this past weekend, they would have been four games clear of their next best competitor with a handful of games remaining.
However, a Jamar Wilson shockwave left the team dazed and confused. What just happened?
Melbourne have well and truly left the door ajar for someone to slip past them, as the team faces the most difficult road trip in the competition. A double delight awaits, as they face both New Zealand and Perth at opposing venues.
If United drops both of these difficult games, there is a serious chance that their two game lead is erased with five rounds remaining. Wouldn't that create excitement for the neutral!
In the remaining fixtures, Melbourne has three double game weekends (including the one mentioned above) and three singles. In addition to their cross-Tasman road trip, they face Cairns towards the end of the season.
Melbourne does not meet Adelaide again, while they must playoff against both Sydney and Townsville twice.
If the team is any chance of blowing the competition away this coming week, with wins against the Breakers and the 'Cats, they will be heavily reliant on their superstars to get them over the line.
Imports Jordan McRae and Stephen Dennis are vital to their success. McRae's scoring punch is undoubtedly one of United's biggest assets. At 21.82ppg, 'Jordy Mac' leads the league in scoring. However, it's his 23.3 PER (Player Efficiency Rating) that has Melbourne's coaching staff buzzing. That figure is good enough for fourth in the NBL, sitting only behind potential league MVP Josh Childress, plus super efficient bench players Ekene Ibekwe and Cameron Tragardh.
Dennis on the other hand, controls the tempo on the floor and attempts to set up nearly every offensive possession while he's on the floor. It shows in the statistics too! Dennis is third in NBL Assist % at 26.9%, that is, he assists on 26.9% of possessions when he's on the floor.
While the two big name Americans are doing their bit, it certainly isn't enough to get excited about. Or is it? Who doesn't get excited about this?
https://www.youtube.com/watch?v=rD0IPIMUCWw
Or this?
[gfycat data_id="LeanFatalGemsbok" data_autoplay=true]
Ok, that was pretty cool. The real treasure however, is the efficiency of their other starters.
David Barlow and Daniel Kickert are two of the most efficient players in the league. So the question begs, why don't they go to these guys more often!?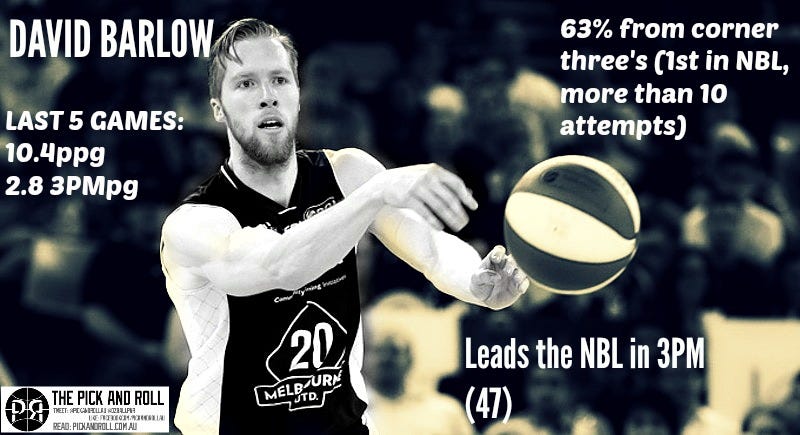 'Kicks' leads the league in Effective FG% at 61.8%, while Barlow isn't far behind sitting third at 60.8%. The reason these guys are so high is that their game from downtown is unmatched. According to Crunchtime Shots, Barlow leads the league in three point percentage from the corner (min. 10 shots) and Kickert (33/52 3PM/3PA) leads the league in three point percentage from anywhere you like (min. 2 shots)!
It's now time to find the right balance in offence as Melbourne look to flex their muscles and cement that fourth spot. They have to fight through a rough final schedule to do so though.
Run Home: NZ (A), PER (A), TSV (H), WOL (A), WOL (H), CNS (A), TSV (A), SYD (A), SYD (H).
---
Adelaide 36ers (5th)
Record: 8-11
2 games behind
Games Remaining: 9
Meet the dark horse that has basically come from nowhere, to become the deadliest contender in the hunt for Melbourne's prized fourth position.
Led by none other than the ONLY two Australian Boomers in the NBL (Adam Gibson and Brock Motum), the Sixers have found their killer instinct and are looking to punish every team in their way.
Looking back, Adelaide have played an incredible month of basketball for their standards. They knocked off Melbourne (twice), Cairns (twice) and Townsville while losing respectively to league leaders New Zealand. (For their sake, I guess we don't mention their 20 point drowning against Perth right at the beginning of all that.)
The Sixers now have three weekends where they play twice, along with three singles. A handy fact in their schedule is that every time the team plays twice, they play Wollongong once. Adelaide faces the top three teams three more times, which include Perth twice and New Zealand away.
In addition, Adelaide get their competitors Sydney twice, once at home and once away, while they face Townsville just one more time at home.
Captain Adam Gibson sits fourth in Assist % with 24.7% and is basically the only Sixer that ranks highly in any statistical category. This bodes well for Adelaide as it shows that Joey Wright has them playing as a team, while Boomer star Brock Motum has slipped in his rotational system nicely.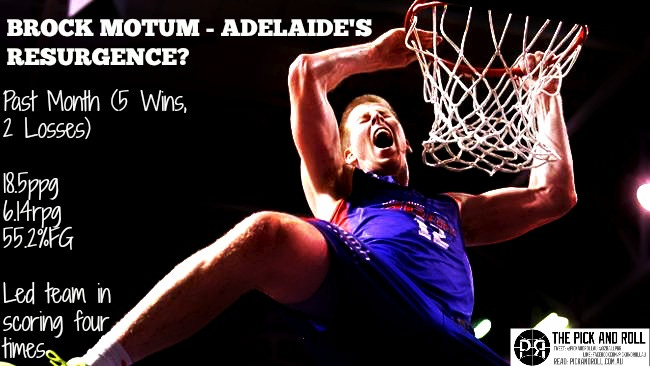 Speaking of Brock, has he come to the party as of late! Despite the breakout game in the opening contest he played in the NBL, he had been unusually quiet with many pundits expecting him to tear up the competition.
With games off the bench sparking single digit scoring and rebounding figures, Motum was elevated into the starting line-up and is now relishing the opportunity to play in his motherland.
https://www.youtube.com/watch?v=ww1mGJ-jE5I
With the inclusion of Motum, it has seen the production of fellow big men Anthony Petrie and Luke Schenscher marginally drop. This, in turn, is a sneakily good thing to have.
With the majority of coverage targeted at Motum, Adelaide's other bigs can now become extremely good role players, and it was highlighted on Saturday night against Melbourne.
The pair were physically stronger than Daniel Kickert, and were able to camp themselves down low in the paint for easy points. Petrie finished the game with 15 points while Schenscher had six points, five rebounds and three assists, exemplifying their ability to play their role.
Here's one of the easiest looks Anthony Petrie will get throughout the entire season:
[gfycat data_id="AfraidEqualHochstettersfrog" data_autoplay=true]
Finally, Adelaide will need a massive finale from Mitch Creek who has missed a big chunk of the season through injury. Coach Joey Wright can count his lucky stars that Creek's recent dislocated shoulder didn't force him to sit on the sideline.
The Sixers are poised to be the most dangerous threat to any team in the NBL. It's just a matter of pulling through and winning the games that are required on a fairly friendly fixture.
Run Home: PER (A), WOL (H), WOL (A), SYD (A), TSV (H), SYD (H), NZ (A), PER (H), WOL (A)
---
Sydney Kings (6th)
Record: 7-11
2 ½ games behind
Games Remaining: 10
It's considered an understatement to say that the team is relying on Josh Childress for the Kings to score wins this season.
'Chilly' is leading the Kings in (strap yourself in, we're going to be here for a while):
Points per game

Rebounds per game

Assists per game (No he cannot assist his own made baskets)

Blocks per game

Minutes per game

Double doubles (he's the only Kings player to record one, he has 8 which leads the league)

Assist to Turnover ratio

Player Efficiency Rating (Leads the league)

Offensive Rating

Defensive Rating

Assist %
So you get the idea yeah? No? Well, here are some highlights as to why Childress is option number 1:
https://www.youtube.com/watch?v=AVFvXHOIQdo
https://www.youtube.com/watch?v=nd08D39zJh8
While it's been an absolute pleasure watching Childress make everyone else in the competition look silly, it probably hasn't been the best solution for the inconsistent Kings.
On paper, their team aren't the worst of sides either. Ben Madgen is a proven NBL scorer. Josh Duinker and Angus Brandt are respectable bigs, while Tommy Garlepp can certainly keep his own.
Kendrick Perry may be seen as the clubs disappointment; however coaches and fans alike will have to consider that this is just his first professional gig. Give the point guard a season to find his feet and hopefully the Kings can retain his services for a productive year next season.
While Perry is still weighing up how to impact the league, head coach Damian Cotter was able to insert Jason Cadee into the starting line-up. It can be seen below of Cadee's impact since playing a more important role on the team.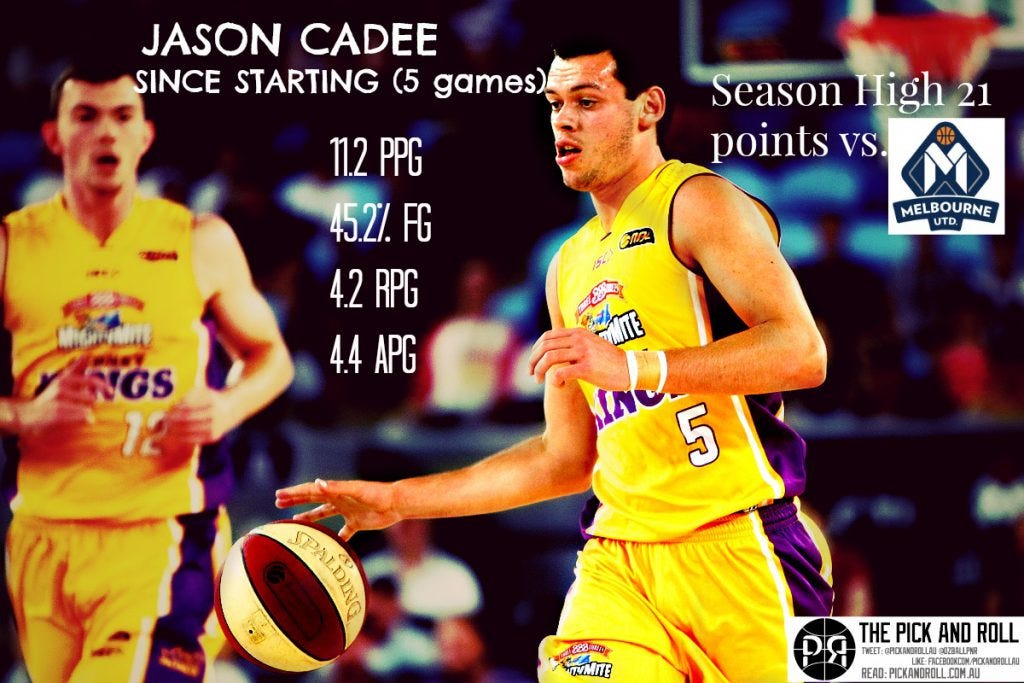 The Kings have the most games out of all contenders for the final playoff spot left on their calendar with 10, which includes four weekends of two games. Every week in which they play twice, they face one of the top three teams, except for the final week of the season where they must meet Melbourne twice.
While the Kings sit two and a half games back, a successful Sunshine Swing this week could put them back in contention being just half a game behind (pending Melbourne's games against Perth and New Zealand).
If that was to be the case, the final two games against Melbourne are crucial to not only win both, but to win both by a decent margin to grab a head to head advantage in case it's necessary.
Run Home: TSV (A), CNS (A), NZ (A), ADE (H), PER (A), ADE (A), CNS (H), WOL (H), MEL (H), MEL (A).
---
Townsville Crocodiles (7th)
Record: 7-13
4 ½ games behind
Games Remaining: 8
To round out the playoff hunt, the Townsville Crocodiles will be in need of a miracle. With the eight games remaining, the Crocs will need the three teams above them to lose nearly every match they possibly can.
Fortunately, the fixture bodes well as the Crocs have been given one of the easiest runs home. Only two double game weekends, with four single games. Five home games, which is more than any of their competitors vying for fourth position, and the Crocs only play one of the top three away once (Perth).
Townsville also possess one of the league's best players in Brian Conklin. A genuine contender for the league's Most Valuable Player, Conklin has recorded six double doubles this season which is good enough for second in the league (two shy of Josh Childress.)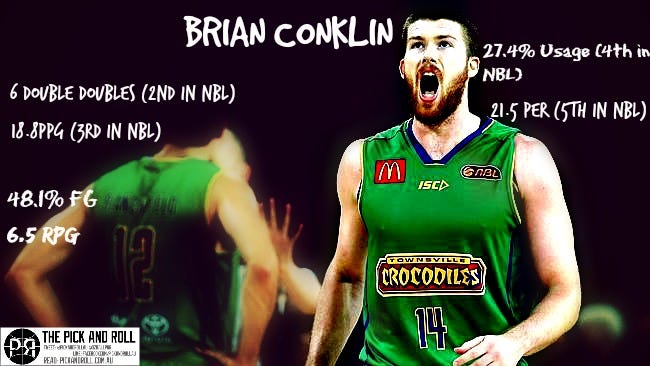 The dynamic duo of Conklin and fellow import Mickell Gladness has come to fruition as of late, despite having their ups and downs throughout the early parts of the season.
When Conklin fails to grab many rebounds, Gladness is always there to clean the glass and is second in the league in rebounds per game with 7.8rpg. He's been doing a lot more than rebounding lately too:
[gfycat data_id="PowerlessScentedAuklet" data_autoplay=true]
At the other end of the height scale, a player of just as much importance in Steven Markovic. Despite no longer being in the starting line-up, Markovic's efficiency on the offensive end is brilliant. He is first in the NBL in Assist % at 34.3%, nearly six percent clear of anyone else.
With the team four and a half games back already, there's a mountain to climb. With their most recent loss to the Cairns Taipans in the final Reptile Rumble of the season, it could prove just too much to ask for a Cinderella story.
Run Home: SYD (H), PER (H), MEL (A), ADE (A), NZ (H), MEL (H), WOL (H), PER (A).
---
The Verdict
4th: Melbourne United (14-14)
5th: Adelaide 36ers (14-14)
6th: Sydney Kings (11-17)
7th: Townsville Crocodiles (9-19)
*Melbourne secure the fourth and final playoff spot on head-to-head (2-2 and then point differential: 378-351)
---
*All stats were taken either from the NBL website, Real GM or Crunchtime Shots.