Australian U19 Emus squad chosen for FIBA U19 World Championship
The Australian U19 Men's squad has been chosen for the 2015 FIBA U19 World Championship, to be held in Heraklion, Greece, beginning on the 27th of June.
Centre of Excellence head coach Adam Caporn will take the reigns of the squad after leading them through an exhilarating FIBA Oceania campaign late last year.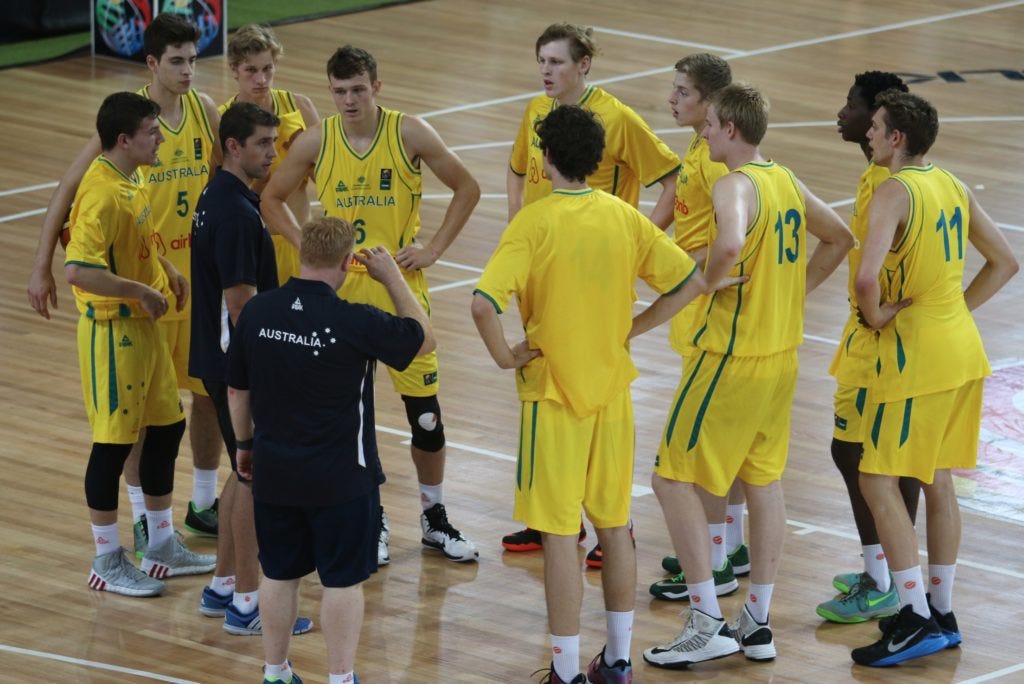 ---
Australian U19 Emus Squad
George Blagojevic – VIC
Kyle Clark – TAS
Deng Gak – NSW
Angus Glover – NSW
Jordan Hunter – NSW
Tanner Krebs – TAS
Geremy McKay – VIC
William McDowell-White – QLD
Jack McVeigh – QLD
Dejan Vasiljevic – VIC
Jack White – VIC
Tom Wilson – VIC
---
The squad participated in their final training camp this week, with big-men Harry Froling and Rhys Vague unfortunately being omitted from the team. This was an interesting move from head coach Adam Caporn, who had already lost the services of 7'1 Jock Perry due to yet another untimely injury. Froling's omission was most surprising, with many expecting the 6'10 forward to be a lock for this squad.
During the Emus camp in April, the squad achieved two narrow defeats against China's U19 side, with reports out of the Centre of Excellence mentioning Australia's struggle inside the paint against China's big-men. This makes the omission of so many talented big-men even more suspect.
The expectation is that this squad - centred around dynamic guards and athletic wings - will look to push the ball as much as possible, using its quickness and athleticism to get quick points in transition.
Eight members of this year's Centre of Excellence squad have been selected, led by Jack McVeigh and Tanner Krebs, who are the most senior members and have considerable amount of national team experience.
Tom Wilson | Credit: FIBA via Basketball Australia
Also included in the squad, and likely to play significant roles, are Tom Wilson and Dejan Vasiljevic. The two Victorian guards attended this year's NBA Basketball Without Borders Camp and recently led their Victorian side to an U20 Australian Junior Championship. They'll be joined by fellow U17 squad members Jack White, Kyle Clark and Deng Gak.
Two guards that have been in great form recently are William McDowell-White and Angus Glover, with both having extremely impressive performances at this year's U18's Australian Junior Championships. McDowell-White is arguably the most talented all-round guard in the country while Glover has the ability to stretch the floor and hit from the perimeter.
Rounding out the squad are two of the more seasoned athletes, George Blagojevic and Geremy McKay. McKay has recently transferred to Eastern Washington University while Blagojevic is a Hartford commit. Both missed the first portion of this campaign but their experience will be a welcome addition to what is a very young squad.
---
Despite some of the great talent participating this year, what is most noticeable about this squad are the names that are not on the list. Ben Simmons, Thon Maker, Isaac Humphries, Jonah Bolden, Deng Adel and Matur Maker were all eligible for this squad but, due to timing, travel and scheduling issues, weren't able to participate in this campaign.
The Emus will participate in a final camp in the first week of June before departing for Spain on the 10th of June for a Pre-Worlds tour. The tour will consist of practice games in Spain and Croatia before the team flies out to Heraklion, Greece on the 22nd of June for the World Championship.
The Australian U19 Emus will be in Group C at the event, going up against Canada, Italy and Tunisia in the group stage.