Discover more from The Pick and Roll
We're all about Aussie hoops. Independent, objective analysis and commentary. Insightful narratives built around Australian basketball. Read about our men and women in the NBA, WNBA, NCAA, Europe, national teams, NBL, WNBL, NBL1, prospects and more.
Over 2,000 subscribers
2015 Australian U20 Nationals: Tournament Recap
For the second year in a row, Victoria has swept the U20's Australian Junior Championships. The final day of the tournament was capped off by an unbelievable Men's Championship game which showed off the incredible talent that Australian junior basketball has to offer.
Photo credit: Basketball Australia/Kangaroo Photos
---
Women's Basketball
In the Women's Championship game, both Victoria and Western Australia looked to feed the ball inside early. Alanna Smith was able to take advantage of WA's zone, finding space to get open for easy buckets. WA looked to feed the ball inside to Megan McKay and Ashlee Sidebottom from the get-go but they both seemed to struggle against the length of the Victorians.
VIC women
Alex Sharp was the standout player in the first half, bringing a lot of energy on both ends of the floor. Sharp had 9 of her 12 rebounds in the 1st half and was instrumental in Victoria's transition game throughout the half.
The 2nd half saw both teams come out cold, with seemingly nothing falling for either side. WA's Mikayla Pirini started to get into the game a bit more throughout the 3rd quarter but yet another Victoria run saw them extend the lead even further. Alanna Smith and Alex Sharp were the ones doing the damage again with crafty finishes around the rim.
Victoria would ultimately come away with the 75-41 win. Alanna Smith finished with 19 points, 11 rebounds and 5 blocks while Ashlee Sidebottom has a team-high 19 pts and 6 rebounds for Western Australia.
All-Tournament Team
Alanna Smith (VIC) - 19.8 ppg, 9.1 rpg, 1.4 apg, 50% FG - Smith was coming off an impressive performance at the FIBA Oceania U19 Championships and she carried her great form over to this tournament. She dominated the paint on both ends of the floor and looked like the most comfortable player all tournament. Stanford is getting a great pickup in Smith, who is our pick as tournament MVP.
Demi Skinner (SA) - 18.1 ppg, 9.8 rpg, 1.6 apg - Demi Skinner was extremely consistent throughout the tournament. Although her 3-ball wasn't falling, Skinner found other ways to make her presence known - showing her impressive midrange jump-shot.
Molly McPhee (ACT) - 17.7 ppg, 11.3 rpg - Although her ACT squad struggled, McPhee was the bright spot. She put up great numbers in last year's U18's Championships and carried that form over to this year's. McPhee positions herself well in the paint and has a really great touch around the rim - she capped off her tournament with a 24 point/22 rebound effort against Tasmania.
Courtney Woods (QLD) - 16 ppg, 7.1 rpg, 1.3 apg - Woods was a force off the bench for Queensland, providing a lot of energy for the 2nd unit. The Northern Illinois signee is extremely comfortable on the ball and did a great job pushing the ball in transition. Unfortunately her Queensland squad wasn't able to crack the top-4 after a strong start to the tournament.
Alex Sharp (VIC) - 12.9 ppg, 10.4 rpg, 2.5 apg - Sharp played with a sense of urgency that was extremely admirable. COming off a shoulder injury and a broken nose, Sharp crashed the boards relentlessly and had no problem getting inside the paint and finishing through contact. She's one of the most versatile players in junior basketball and showed it in the championship game.
On the outside looking in: Sara Anastasieska (NSW), Ashlee Sidebottom (WA), Taylor Ortlepp (SA)
Tournament MVP: Alanna Smith
Alanna Smith | Photo credit: Basketball Australia, via FIBA
---
Men's Basketball
The Men's championship game ended being a game for the ages. An amazing display of shot-making from both teams led resulting in a double-overtime thriller - with Victoria coming away with the 105-104 victory to win their sixth straight U20's Australian Junior Championship.
VIC men | Photo credit: Basketball Australia/Kangaroo Photos
Victoria opened the game looking to feed their bigman early. 7'1 Jock Perry got a lot of touches early and took advantage of his immense size advantage while Tasmania's Joe Chilcott got hot from the perimeter, providing us with a back and forth affair in the 1st quarter. Dejan Vasiljevic came out with aggressiveness to start the game, hitting an array of contest shots from the perimeter.
It became known quite early in this game that Tasmania wasn't going to be shy from beyond the arc, letting it fly early and often. Tasmania would go into the half with a 42-38 lead after closing out the 2nd quarter strong.
The game remained close throughout, setting us up for an exciting finish. With 1:28 left in the 4th quarter, Tasmania took a 80-75 lead thanks to an impressive one-legged step-back jump-shot from Kyle Clark. Victoria managed to tie the game at 80-80 after back-to-back buckets from Joel Smith and Jock Perry, respectively. Tasmania failed to get a quality look at the buzzer, sending the game to its first overtime.
Overtime saw Tasmania Tanner Krebs get hot from downtown, nailing three 3-pointers in a row. But it was Jack White who energised Victoria as they answered every Tasmanian bucket. Krebs wasn't able to get a quality look at the buzzer which sent the game into its second overtime.
It was Victoria that came out strong in the second overtime period as their ball movement picked up, creating a lot of good looks. After a Jock Perry layup, Victoria had a 105-101 lead and had seemingly run away with the game - but Lachlan Barker managed to bank in a 3-pointer, cutting the Tasmanian deficit to just one point. Tasmania managed to get the steal and Joe Chilcott had a good look from beyond the arc to win the game but the shot was short, with Victoria coming away the tough win.
Dejan Vasiljevic finished with a team-high 23 points while Jack White posted an impressive 21 points and 13 rebounds. For Tasmania, Krebs finished with 31 points while fellow St Mary's signee Kyle Clark had 27 points, 8 rebounds and 7 assists.
---
All-Tournament Team
Rhys Vague (WA) - 22.6 ppg, 7.4 rpg, 42% FG - Vague finished the tournament as the leading scorer, taking over the scoring load for a relatively weak Western Australia squad. The U19 Emu did his damage both inside and out and had one of the standout performances of the tournament - a 37 point effort in a win against a strong NSW squad.
Tanner Krebs (TAS) - 18.4 ppg, 5.3 rpg, 1.6 apg, 36% FG, 33% 3pt - In what will be his final Australian Junior Championship, Krebs wore his heart on his sleeve in the final game and nearly single-handedly won his team the championship game in overtime. Krebs made some big shots throughout the tournament, leading Tasmania all the way to the grand final.
Dejan Vasiljevic (VIC) - 17.9 ppg, 3.5 rpg, 1.6 apg, 46% FG, 43% 3pt - Vasiljevic showed a much improved efficiency in this tournament, proving he's one of the best shooters in the country. The U17/U19 Australian representative, who just returned from the NBA Basketball Without Borders Camp in New York City, was feeling it from downtown all tournament - hitting some big shots in the championship game. Vasiljevic is out pick for MVP of this tournament.
Jack McVeigh (QLD) - 17.8 ppg, 9.9 rpg, 2.4 apg, 36% FG - McVeigh struggled from the field throughout this tournament but still managed to be extremely productive for his team. This was McVeigh's last Australian Junior Championship and, although Queensland struggled throughout, McVeigh showed why he's been considered one of the best junior talents in the country for so long.
Evan Fowler (ACT) - 17.1 ppg, 5.6 rpg, 36% FG - Fowler was the most consistent performer for ACT and was one of the more underrated players heading into the tournament. He showed great touch around the rim and also impressed attacking from the perimeter. With teammate Bul Kuol often in foul trouble, Fowler did a great job stepping up and leading this ACT squad.
On the outside looking in: Kyle Clark (TAS), Bul Kuol (ACT), Tom Wilson (VIC)
Tournament MVP: Dejan Vasiljevic
Dejan Vasiljevic | Courtesy FIBA via Basketball Australia
---
A look back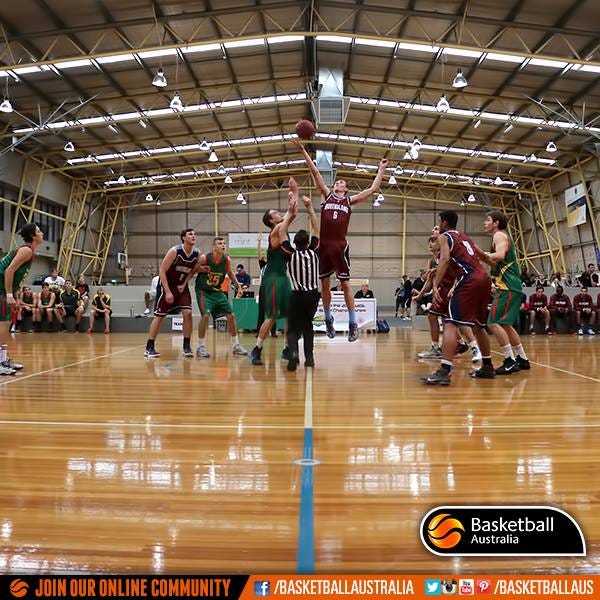 Photo credit: Basketball Australia/Kangaroo Photos
---
A lot of credit goes to all of the staff involved in putting together another successful Australian Junior Championship, and to all of the players for their efforts. A big thanks to Basketball Australia and Kangaroo Photos for generously allowing us to use their photos from the tournament. Don't forget to check out all of the photos from the tournament at the Kangaroo Photos website.
Thank you to everyone who has followed along with our coverage and we'll see you at U18's National's in April!